Joseph Rucker Lamar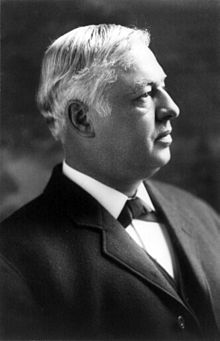 Born October 15, 1857 - Died January 2, 1916
Joseph Rucker Lamar was an American attorney and Associate Justice of the United States Supreme Court.
Lamar was born in Ruckersville, Georgia on October 14th, 1857. He attended a variety of educational institutions including the Academy of Richmond County, the fifth oldest public high school in the country, Martin Institute, the first privately funded high school in the country and Joesph T. Derry's School for boys.
At the Joesph T. Derry school he attended with Woodrow Wilson, Lamar's neighbor and "closest friend".
After attending the University of Georgia, Lamar finished law school at Washington and Lee University School of Law.
Starting in 1886 Lamar began a three year term in the Georgia House of Representatives. In 1893 Lamar was appointed by the Georgia Supreme Court as part of a Commission to Re-codify the Laws of Georgia. After two years of work the Georgia Legislature approved the changes.
In 1901 Lamar was appointed to fill an unexpired term on the Georgia Supreme Court and was elected to the seat in 1903. During his time on the Georgia Supreme Court Lamar wrote more than 200 opinions. He resigned from the Georgia Supreme Court in 1905 and went back into private practice representing Railroads and large Corporations.
In 1910 Lamar was appointed to the United States Supreme Court by William Howard Taft. At the time of his appointment Lamar was one of only three Supreme Court appointees who were nominated by Presidents from the opposite party.
In 1915 Lamar wrote two short individual opinions regarding a famous case from his home state of Georgia. The Leo Frank case had been tried two years before in Georgia. Frank, a factory supervisor in Georgia, was accused and convicted of strangling a 13 year old female factory worker. The case brought up questions of antisemitism in the United States, Frank was Jewish and from New York. The first opinion was in regards to Frank's request for habeas corpus, a request meant to establish the legal write of a jailer to hold a prisoner, which Lamar declined. The second was to grant a writ of error in the Frank case, this allowed the case to be heard before the full court. Lamar voted with the majority which rejected Frank's claim.
Lamar passed away on January 2nd, 1916.
Lamar was a member of Webb Lodge No. 166 in Augusta, Georgia.