John Doby Kennedy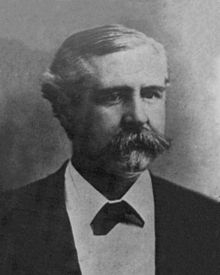 Born January 5, 1840 - Died April 14, 1896
John Doby Kennedy was an American attorney, politician and Confederate soldier.
Kennedy was born on January 5th, 1840 in Camden, Kershaw County, South Carolina. He joined a pre-Civil War militia unit. From 1855 to 1857 he attended South Carolina College. He read law, studied under an attorney, and was admitted to the bar in 1861. Prior his establishing a law practice, South Carolina seceded from the United States.
In 1861, Kennedy enlisted in the Confederate Army. Serving in the First Battle of Manassas where he was badly wounded. After his recovery he was promoted to colonel and assigned his first command. He was involved in several battles leading up to the Battle of Sharpsburg where he was again badly wounded. In 1863, he led his regiment during the battles of Chancellorsville and Gettysburg. He took part in the Carolinas Campaign against William T. Sherman before surrendering with Johnston's Army near Greensboro. Through out the war Kennedy survived six wounds and was hit fifteen times. By the end of the war he had been promoted to the temporary rank of brigadier general.
In 1865, Kennedy was elected to Congress. He was not seated when he refused to take the "ironclad" oath of allegiance required of all Congressman from seceding states. After returning home until 1877, Kennedy was a farmer. In 1877, he established his law practice in Camden. In 1878 and 1879 he represented Kershaw County in the State Legislature. From 1880 to 1882 he served as the Lieutenant Governor of South Carolina. He unsuccessfully ran for Governor.
In 1886, President Grover Cleveland appointed Kennedy as consul general at Shanghai, China. He returned from the post in 1889. After returning, he re-established his legal practice until the time of his passing.
Kennedy passed away on April 14th, 1896 from a stroke. In 1911, Camden officials erected a Confederate Memorial fountain. Each of the six sides was dedicated to a general who served from Kershaw county, which included Kennedy,
Kennedy was active in Kershaw Lodge No. 29 in Camden. From 1881 until 1883 he served as the Grand Master of the Grand Lodge of South Carolina.