John Howard Coble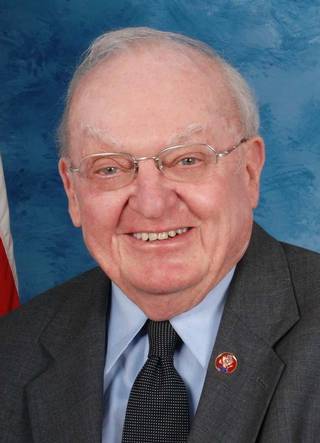 Born March 18, 1931 - Died
John Howard Coble was an American politician.
Coble was born on March 18th, 1931 in Greensboro, North Carolina. After graduating from high school, he attended Appalachian State University. After a short time he left the University and enlisted in the United States Coast Guard. He served 5 years on active duty. He was honorably discharged and began serving in the Coast Guard reserve for the next 18 years. After his active duty service he enrolled in Guilford College where he received a degree in history. Then he attended the University of North Carolina at Greensboro before transferring to the University's Chapel Hill campus where he received a law degree.
After Coble graduated he first worked in the insurance industry. He then had a successful law practice for 20 years. He also was Secretary of Revenue for North Carolina as well as serving in the North Carolina House of Representatives. He served in the North Carolina House of Representatives from 1979 until 1984.
In 1984, Coble was elected to the United States House of Representatives. It is believed that he won his first election by a narrow margin riding on the coat tails of then candidate Ronald Reagan. In his second election, in 1986, Coble won by only 79 votes. After that he won each of his reelection bids by sizable margins of 61% or more. Be became North Carolina's longest serving Republican United States Congressman with 30 years in office. When he left office in 2015, he declared he wouldn't seek reelection.
During his time in Congress Coble supported the NET Act which removed financial gain as a requirement for someone to be criminally prosecuted for copyright infringement. He supported agricultural issues, largely supporting North Carolina tobacco farmers. He opposed legislation that would allow the use of medical marijuana and at the same time authored a resolution which celebrated the anniversary of the passage of the Twenty First Amendment, which repealed Prohibition.
Coble refused to accept a pension from his time in Congress, stating in an interview with CBS "I figured taxpayers pay my salary – not a bad salary, and I figure that's sufficient. Let me fend for myself after the salary's collected." During the 2013 Government Shutdown, Coble did accept his paycheck while 800,000 federal workers were furloughed without pay because of a federal law that required him to collect his paycheck. He was one of 87 Republicans that voted to end the shutdown. It was also in 2013, that Coble introduced legislation that would reform the Congressional Pension program, feeling that the reform was long overdue. One of the changes made the mandatory service time longer in order to receive a pension.
Coble suffered from skin cancer as well other ailments. In 2015, after have skin cancer removed, he was admitted to intensive care due to complications from the surgery. He passed away on November 3rd, 2015.
Coble was a member of Guilford Lodge No. 656 in Greensboro, North Carolina.