William Edward Benswanger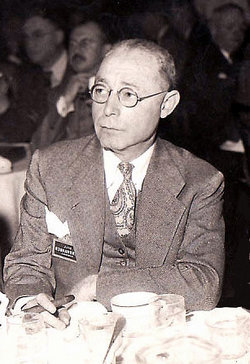 Born February 22, 1892 - Died January 15, 1972
William Edward Benswanger was an American businessman.
Benswanger was born on February 22nd, 1892 in New York City, New York. At the age of five he moved with his family to Pittsburgh, Pennsylvania.
During World War I, Benswanger joined the United States Army in the balloon corps.
Benswanger got involved with baseball and the Pittsburgh Pirates organization through his marriage to Eleanor Fanny Dreyfuss. Eleanor's father Barney Dreyfuss had been the long time owner of the Pirates. He had been grooming his son to take over as head of the organization when in 1931, Dreyfuss' only son passed away from pneumonia. Dreyfuss himself passed away shortly after. The team was left to Dreyfuss' widow who compelled her son-in-law, Benswanger, to run the front office of the Pirates.
Benswanger ran the Pirates from 1932 through the 1946 season. On the positive side for his time running the organization, the team had several future hall of famers com through the team. Benswanger was able to keep the team going during the Great Depression and he brought back all-time great Honus Wagner, a fellow mason, to coach the team. On the negative side the team had four 2nd place finishes in the National League, the rest of the seasons he was in charge they were either middle rung or lower rung in the league. They also were slow to get themselves a farm system, which many teams at the time were finding essential to the success of their ball club.
Another notable aspect of Benswanger's tenure was prior to Branch Rickey's efforts with the Brooklyn Dodgers to break the baseball color-barrier, Benswanger was one of only a few owners and executives who challenged Kenesaw Mountain Landis, the commissioner of Baseball at the time and a proponent of the color-barrier.
In 1946, Benswanger last year as president of the organization, a Boston labor lawyer decided to start the American Baseball Guild, a predecessor to the Major League Baseball Players Association (MLBPA). The American Baseball Guild decided to try the waters for unionization of the players in Pittsburgh, due to the fact players there had been open in the past to unionization. The Guild threatened a strike when they made demands on the Pirates Organization and Benswanger refused to acquiesce. Before a June game with the New York Giants the Guild called a players-only meeting for the Pirates and a vote was taken on whether to strike. Although the majority wanted to strike, they needed a two thirds majority for the strike to take place. The failure of the vote caused the Guild to lose credibility and very little changed until 1966 when the MLBPA was formed.
In August of 1946, the Dreyfuss family sold the Pirates organization and Benswanger stepped down as it's head.
Benswanger passed away on January 15th, 1972.
Benswanger was a member of Lodge No. 45 in Pittsburgh, Pennsylvania.