Earl Warren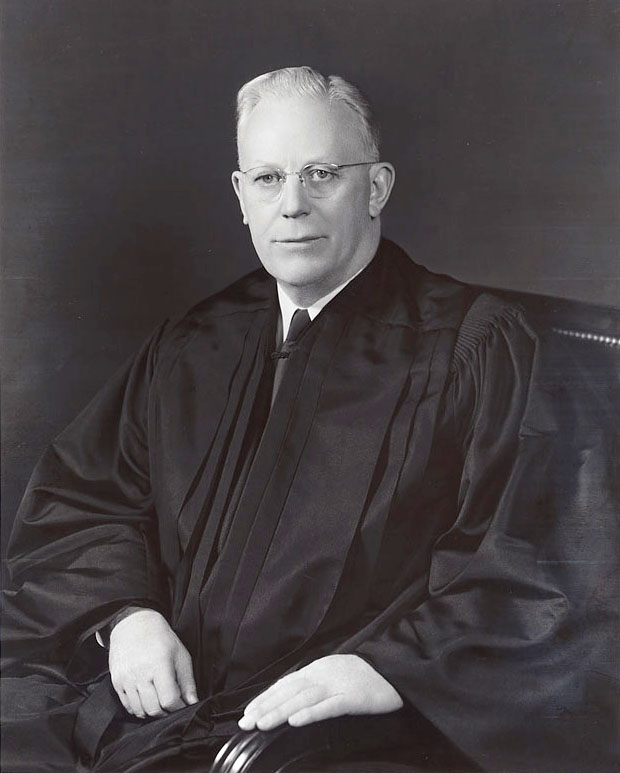 Born March 19, 1891 - Died July 9, 1974
Earl Warren was an American politician and jurist.
Warren was born on March 19th, 1891 in Los Angeles, California. At the age of 13 his family moved to Bakersfield, California. He attended Washington Junior High and Kern County High School, now Bakersfield High School. In Bakersfield his father was murdered during a robbery. Warren graduated from the University of California, Berkley in 1912 with a Bachelor of Arts. He went on to the University of California, Berkley School of Law and graduated with a Jurist Doctor degree in 1914. The same year he was admitted to the California bar.
From 1914 to 1917, Warren worked for Associated Oil in San Francisco and a law firm in Oakland before enlisting in the Army during World War I. He served in the Army for about one year and never left the United States. He was discharged in 1918.
In 1919, Warren served as clerk for the Judicial Committee of the California State Legislature. In 1920 he began working as the Deputy City Attorney of Oakland. He served in the position for five years. During this time he began to develop many of the strong opinions he had about opposing corruption and promoting democracy by studying some of the leaders of the Progressive Era. In 1925 he was appointed as the District Attorney of Alameda County when the position which was vacated. He was then elected to 3 consecutive four year terms. Serving in the position until 1939. During his time as District Attorney of Alameda County he vigorously investigated a deputy sheriff who allegedly took bribes in connection with street-paving and cracked down on bootlegging. He had a reputation for being high-handed, none of convictions were overturned on appeal. He also established a reputation for himself as a no-nonsense District Attorney. In 1931 he was voted the best District Attorney in the country.
In 1938 Warren ran in the primaries in California for Attorney General. He ran in multiple primaries which is referred to as cross-filing which allows a candidate to run for the nomination of multiple parties allowing the candidate to eliminate competition in the general election. While Attorney General he organized state law enforcement and cracked down on gambling ships which operated off the California coast. He was also the driving force behind the Japanese-American interment camps after the bombing of Pearl Harbor. He later regreted his decision to push for the interments stating:
"[I] since deeply regretted the removal order and my own testimony advocating it, because it was not in keeping with our American concept of freedom and the rights of citizens...Whenever I thought of the innocent little children who were torn from home, school friends, and congenial surroundings, I was conscience-stricken...it was wrong to react so impulsively, without positive evidence of disloyalty"
Warren successfully ran for Governor of California in 1942. He was elected a total of three times as Governor. He was the first in California history to be elected to office three times and the only one to have three consecutive terms as the law changed after he was in office preventing anyone from being Governor for more than two terms. The next person to be elected for three terms was Current California Governor Jerry Brown.
In 1952, attempted to gain the Republican nomination for President. He was stymied though by then Senator Richard Nixon. Nixon and Warren did not like each other. Nixon backed Eisenhower who won the nomination. Eisenhower offered Warren a seat on the Supreme Court when the next opening occurred. Until then he was going to appointed solicitor general. The Chief Justice of the Supreme Court passed away though before the deal could be announced and Warren was immediately appointed. Warren tended to be more liberal on the court and it is claimed Eisenhower once said "the biggest damn fool mistake I ever made." One of Eisenhower's biographers has stated there is no evidence he ever said it. To this point Warren is the last person to have been elected the Governor of a state and has served on the Supreme Court, the last person to have served in a state elected office and the last serving elected politician to be elevated to the Supreme Court.
During his time on the Supreme Court, Warren swore in every president with exception of Lyndon B. Johnson's first term after the assassination of John F. Kennedy. He even swore in his one time rival, Richard Nixon.
After the assassination of John F. Kennedy, Johnson demanded Warren run the commission, now known as the Warren Commission, investigating the assassination of Kennedy. Johnson called it Warren's patriotic duty. The commission had been under attack ever since it released it's findings by conspiracy theorists who claimed evidence was altered or omitted from the report.
On the Supreme Court, Warren was involved in some of the biggest cases of the second half of the 20th century. This included Brown v. Board of Education which banned segregation in public schools, Miranda v. Arizona and Gideon v. Wainwright which combined requires law enforcement to inform a person of their rights (Miranda Warning) and under the Sixth Amendment requires the state to provide an attorney for indigent defendants, and Engel v. Vitale which outlawed mandatory prayer in public schools.
Warren passed away on July 9th, 1974 in Washington D.C.
Warren was elected the Grand Master of the Grand Lodge of California in 1935. His biographer stated Warren "thrived in the Masons because he shared their ideals, but those ideals also helped shape him, nurturing his commitment to service, deepening his conviction society's problems were best addressed by small groups of enlightened, well-meaning citizens. Those ideals knitted together Warren's Progressivism, his Republicanism, and his Masonry."