Robert Joseph "Bob" Dole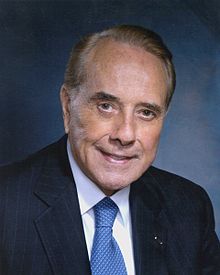 Born July 22, 1923 - Died
Robert Joseph "Bob" Dole is an American politician.
Dole was born on July 22nd, 1923 in Russell, Kansas. Dole graduated from Russell High School in 1941. In high school, Dole was a star athlete and was recruited to play basketball for the University of Kansas (KU). While at KU Dole also participated in track and football while he was in the pre-med program.
In 1942, Dole joined the United States Army's Enlisted Reserve Corps. He was made a second lieutenant in the 10th Mountain Division. In 1945 while engaged in combat in Northern Italy Dole was struck by enemy machine gun fire. He was hit in his upper back and right arm. The wounds were so severe the only thing his fellow soldiers could do was give him the largest dose of morphine they could and write an "M" on his forehead, which they did with Dole's own blood, so the next person who came upon him knew not to give him another dose.
Back in the United States, Dole began the long journey back from his physical injuries as well as the emotional injuries and depression. When he met Dr. Hampar Kelikian, a Chicago Orthopedist, Dole's future outlook future improved. He later said the doctor had "an impact on my life second only to my family."
From 1948 to 1951, Dole attended the University of Arizona. In 1952 he earned a Bachelor of Laws degree and a Bachelor of Arts degree from Washburn University
In 1950, Dole was elected to the Kansas House of Representatives where he served a two year term. After his graduation from Washburn University he passed the bar and opened a law practice in Russell. In 1952 he became the County Attorney of Russell County, serving for eight years. In 1960 he was elected to the United States House of representatives serving until 1968.
In 1968 Dole was elected tot he United States Senate. He served in the Senate until his retirement in 1996. During his time in the Senate he was invoked with Presidential politics either as a candidate for the presidency or a vice presidential candidate. This was in 1976 as President Gerald Ford's Vice Presidential running mate. In 1980 when he ran for the Republican nomination against Ronald Reagan. He ran again for the Republican nomination in 1988 against then Vice President George H.W. Bush. He finally ran in 1996 as the Republican Presidential nominee when he ran against President Bill Clinton. It was at this time he retired from the United States Senate to fully focus on the campaign. He lost the election to Clinton.
After retirement, Dole was an on-air political commentator, a product spokesman and had an occasional guest appearance on various television shows, at times parodying himself.
Dole appeared at the 2016 Republican National Convention and donated money to a camp in Kansas to help children with cancer.
Dole passed away on December 5th, 2021 from lung cancer.
Dole was a member of Russell Lodge No. 177 in Russell, Kansas.