Alphonso Taft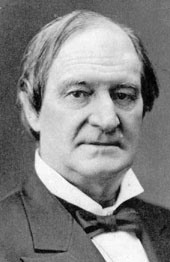 Born November 5, 1810 - Died May 21, 1891
Alphonso Taft is an American politician.
Taft was born in Townsend, Vermont on November 5th, 1810. The family was considered of substance and education, however they were not considered wealthy. Until the age of 16 Taft attended local schools. At 16 he began teaching school to earn money.
In 1829, Taft entered Yale College. He graduated in 1833. During his time at Yale he became one of the two founding members of the Skull and Bones in 1832.
After graduating Taft taught school in Connecticut. He also entered Yale Law School and in 1838 was admitted to the bar in Connecticut. Taft had no interest in staying in New England. In a letter dated in 1837 to his father, Taft stated Vermont was a "noble state to emigrate from." He also had no interest in practicing law in New York, feeling people there were under the influence of wealth and corruption.
In 1839, Taft moved to Cincinnati, Ohio. In Cincinnati he became involved in local politics. He married twice. The second marriage occured when his first wife passed away in 1851.
In 1856, Taft was a delegate to the Republican National Convention. He also ran, unsuccessfully, for the United States House of Representatives. Taft did not serve in the Army during the Civil War.
In 1866, Taft was appointed as a judge for the Superior Court of Cincinnati serving until 1872. In 1869 a case which came before the superior court was Board of Education of Cincinnati vs. Minor. In the case Taft felt the School Board of Cincinnati had overstepped their bounds by continuing to have the Holy Bible read in Public Schools. The case went to the Ohio Supreme Court. Taft gave his argument against the ruling of the Superior Court of Cincinnati. He argued the Bill of Rights reflected more than Protestant values and religious liberty was given to all religions and Christianity "is not to be regarded as sectarian under our constitution." His argument was successful and the Ohio Supreme Court sided with Taft.
In 1875, Taft ran, again unsuccessfully, for the office of the Governor of Ohio. He ran one other time for the office. Many feel his efforts in the case of the Board of Education of Cincinnati vs. Minor caused a hit to his popularity in the state. Although among his peers he was applauded for his efforts.
In March of 1876, President Ulysses S. Grant appointed Taft as Secretary of War. Just under three months later Taft was appointed as United States Attorney General. In October of 1876, after the highly contested Hayes-Tilden presidential election, Taft supported Grant when he used force in South Carolina and Mississippi to suppress violence against blacks in the south. Taft gave a lengthy speech in New York outlining atrocities perpetrated by Southerners against blacks in the south. To prevent a second American Civil War, Taft cosponsored a bill signed by Grant resolving the disputed election by Electoral Commission.
Taft was the patriarch of a political dynasty which stretched into the 21st Century. His son, William Howard Taft became President of the United States. Among other offices, Taft's descendants were Congressmen and Diplomats.
Taft pass away in California on May 21st, 1891.
Taft was a member of Kilwinning Lodge No. 356 in Ohio.