John Herschel Glenn, Jr.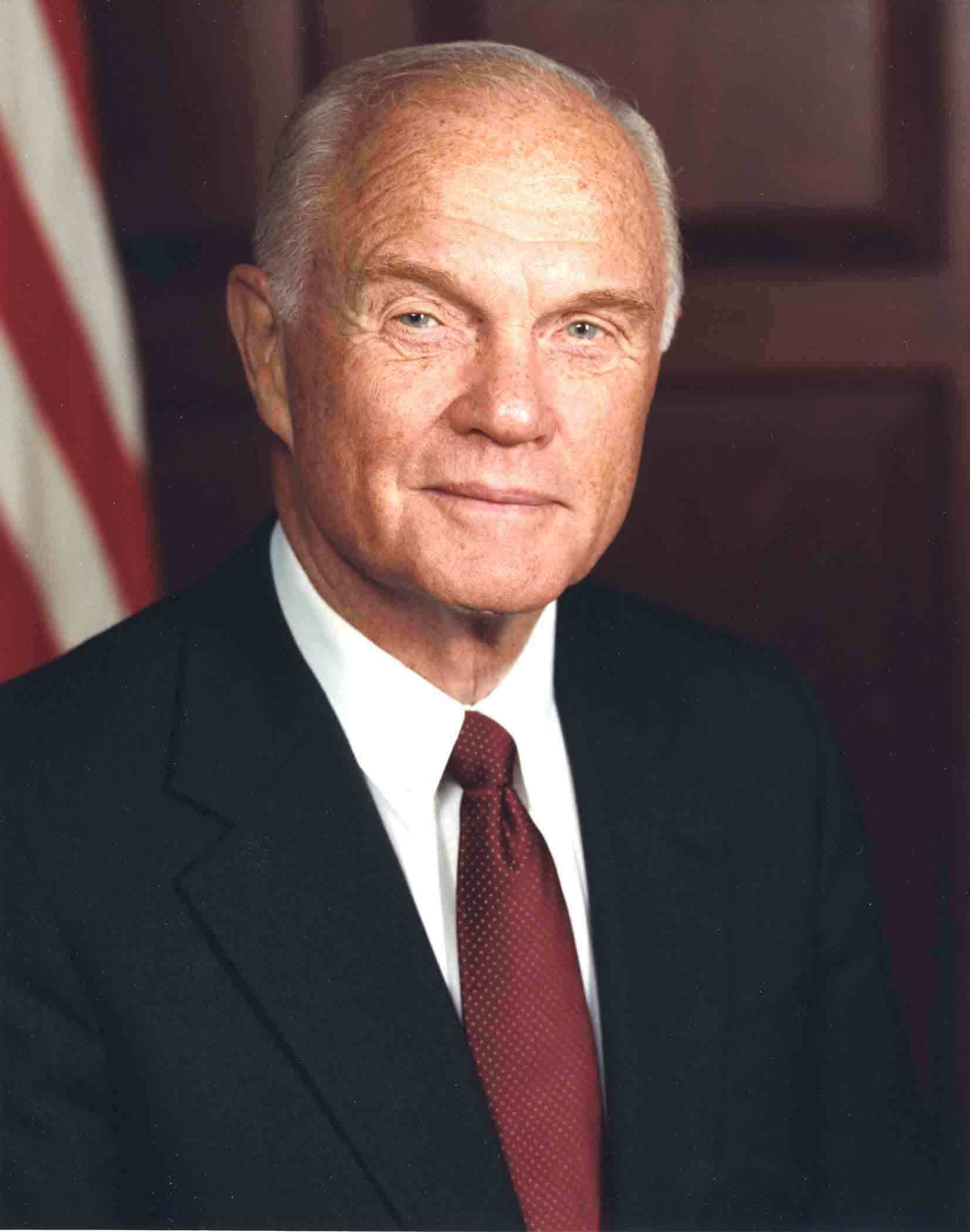 Born July 18, 1921 - Died
John Herschel Glenn, Jr. is an American astronaut and politician.
Glenn was born in Cambridge, Ohio on July 18th, 1921. He grew up in New Concord, Ohio. He graduated from New Concord High School in 1939. He attended Muskingum College where he studied mechanical engineering. In 1941, to earn credit in a physics class, Glenn would earn his private pilot's license.
In 1941, after the Japanese attack on Pearl Harbor, Glenn would leave college to join the military. He would join the Army Air Corps and would never be called to duty. In March of 1942, he would move to the United States Navy as an aviation cadet. He would later be offered the opportunity to transfer to the United States Marine Corps and took it. In 1943, after completing training, he would fly 59 combat missions in the South Pacific.
During the Korean War, Glenn would continue flying with the United States Marine Corps. He would fly 90 combat missions, including 27 with the United States Air Force during an inter-service exchange program. Also during the Korean War he would fly as the wingman of future Baseball Hall of Fame member, Ted Williams. During the war, Glenn would gain the nickname "Magnet Ass" because of his odd ability to attract enemy flak. On one mission he returned to base with nearly 250 holes in his plane.
After his service in the Korean War, Glenn would be assigned to the United States Naval Test Pilot School and would graduate in 1954. During this time Glenn's flying time would go over 9,000 hours including 3,000 in Jet Aircraft. His most notable flight was the first transcontinental supersonic flight from Naval Air Station Los Alamitos, California to Floyd Bennett Field, New York. Flight took 3 hours 23 minutes and 8.3 seconds. The flight includes 3 in-flight refueling where the plane did dip below 300mph. When Glenn flew over New Concord, Ohio, a young boy in the town ran to the Glenn household yelling "Johnny dropped a bomb! Johnny dropped a bomb!" this was due to the sonic boom heard.
In April 1959, Glenn, along with the other 6 Mercury Astronauts were introduced to the World. This was after a year long review of 508 other candidates for the program. On February 20th, 1962, Glenn would become the first American to orbit the Earth aboard Friendship 7. Glenn's first words after becoming weightless on his orbit of the Earth was "Zero G and I feel fine."
In 1964, Glenn would resign from NASA and on the following day announce his candidacy for the United States Senate. He would withdraw from the race after falling in a bathtub giving him a concussion and an inner ear injury. Glenn would not become a member of the United States Senate until the late 1970's. His Senate career would last until 1999.
Glenn would return to space in 1998 at the of 77. He would become the oldest person to go into space. In 2012, he would participate in the ceremonial transfer of the Space Shuttle Discovery from NASA to the Smithsonian. At the ceremony, Glenn would criticize the "unfortunate" decision to end the Space Shuttle Program. He would express his opinion that grounding the shuttles delayed research.
Glenn passed away on December 8th, 2016.
Glenn was a member of Concord Lodge No. 688 in New Concord, Ohio.