Stephen F.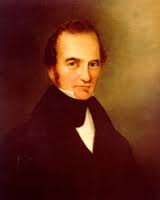 Born November 3, 1793 - Died December 27, 1836
Stephen F. Austin is an American empresario.
Austin is known as the father of Texas after completing the task that his father, Moses Austin, had set out to accomplish.
Austin was born in Virgina in the mining town that his father had established. When the mining town fell into debt Austin's father took the family and fled to Missouri where Moses Austin established a new mining community with the help of the Spanish Government.
In the Panic of 1819 Austin, like his father, lost all of his money. At this point Austin moved to Arkansas. In Arkansas Austin purchased land in the area that would become Little Rock. After the purchase Austin discovered the area was being looked at for the territorial capital. His claim to the land was overturned by the courts. In Arkansas Austin ran for Congress unsuccessfully and was appointed as a judge. The Territorial Assembly reorganized the government and abolished Austin's judgeship in 1820.
After Austin's judgeship was abolished in Arkansas, he headed to Louisiana where he made arrangements to study law.
While Austin was Arkansas, his father, Moses Austin, had been arranging his empersarial grant. Austin's father would never get the chance to use the grant as he would pass away after returning from the visit to gain the grant. Austin's father left him the grant and he at first was reluctant to use it until a letter from his mother convinced him to move forward.
Austin became a member of Louisiana Lodge No. 111 in St. Genevieve, Missouri. Once in Texas Austin sought to expand Freemasonry in the new territory of Texas.