Joel Barlow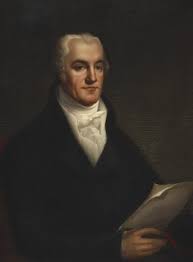 Born March 24, 1754 - Died December 26, 1812
Joel Barlow was an American poet, diplomat and politician.
Barlow was born in Redding, Connecticut on March 24th, 1812. He briefly attend Dartmouth College before graduating from Yale College in 1778. He remained at Yale for two years as a post graduate student.
In 1778, Barlow wrote and published an anti-slavery poem entitled The Prospect of Peace.
In 1780 and through to the end of the Revolutionary War Barlow was a chaplain with the 4th Massachusetts Brigade. He also participated in the Battle of Long Island. He was an ardent American Patriot. He believed the American Revolution was the beginning of a global change.
After the war in 1783, Barlow moved to Hartford, Connecticut. In Hartford he began to meet with a group of young writers whose collective nickname in literary history was the "Hartford Wits". In 1784 he established a weekly paper called American Mercury.
In 1786, Barlow was admitted to the bar. The following year he published one his most famous poems Visions of Columbus. Barlow intended it to be the great American epic. At the time of it's publishing Barlow was compared to Homer, Milton and Virgil. Excitement for the poem waned though and it is now considered something of an overblown flop.
In 1788, Barlow traveled to France on behalf of a company trying to get French settlers to come to America and purchase land. The company folded and was found to have been fraudulent although it is believed Barlow knew nothing of the fraud.
In 1793, Barlow published another poem The Hasty-Pudding. It was a mock-heroic poem written about the American experience of the time.
In 1796, Barlow as the American consul to Algiers was able to negotiate for the release of over a 100 American sailors captured by Barbary pirates. During the same time he helped to write the Treaty of Tripoli which contained the controversial line "...the Government of the United States of America is not, in any sense, founded on the Christian religion...".
Barlow moved to France and was offered French citizenship so he could be elected to a seat in the French Assembly. He helped with he French Revolution and called for Louis XVI head despite having dedicated Visions of Columbus to him.
While living in Europe, he liveed in London as well. He helped Thomas Paine publish the first part of The Age of Reason. He also wrote other essays including Advice to the Privileged Orders which was prohibited by the British Government for being radical.
After returning to the United States in 1805, Barlow became the American minister plenipotentiary to France. In 1811 in this capacity he was sent to France to negotiate with Napoleon. He never saw Napoleon. He was caught up in the retreat of the French army and contracted pneumonia.
Barlow died in Poland on December 26th, 1812.
Barlow was a member of St. Johns Lodge No. 4 in Hartford, Connecticut.