Warren Robinson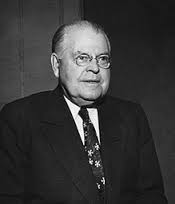 Born November 12, 1877 - Died December 25, 1962
Warren Robinson Austin was an American politician and statesman.
Austin was educated both in the United States and Quebec growing up. His time spent in Quebec was to gain fluency in French. He graduated from the University of Vermont and then studied law with his father Until 1902 when he passed the bar and entered into practice with his father.
Austin, a Republican, held offices in St. Albans including Grand Juror and Chairman of the Republican Committee. In 1904 Austin was elected States Attorney for Franklin County and in 1909 was elected as mayor of St. Albans.
In 1914 he was appointed a trustee of the University of Vermont and held the position until 1941.
From 1925 to 1937 Austin served as a Special Counsel for Vermont for the process of setting the official border between Vermont and New Hampshire.
In 1931 Austin was elected in a special election to complete the term of deceased Senator Frank L. Greene. Austin would be elected to two more terms. He would resign his seat in August of 1946 in order to accept appointment to the United Nations.
In June of 1946 Harry Truman appointed Austin as the first official US Ambassador to the United Nations. Due to constitutional laws preventing sitting members of congress from accepting positions created during their term he would have to wait to begin the position until January of 1947. In his role as Ambassador Austin was a key figure in the beginning of the Cold War.
Austin was a member of Franklin Lodge #4 in St. Albans, Vermont and a Shriner.