Orvon Grover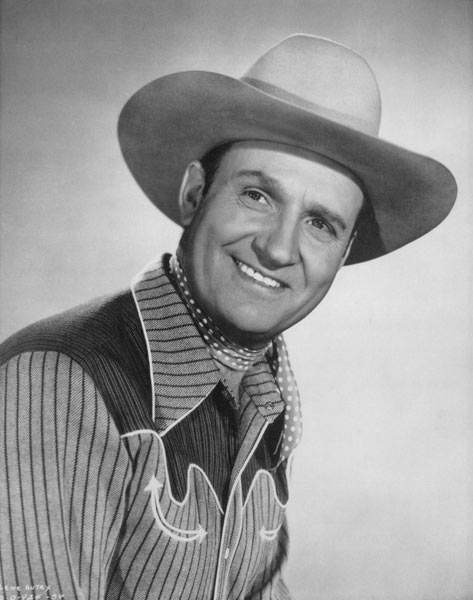 Born September 29, 1907 - Died October 2, 1998
Orvon Grover Autry, typically referred to as Gene Autry, was an American performer and business man.
Autry became famous as the sining cowboy. He would appear on radio, television and in movies. He was the personification, in all three mediums, as the straight-shooting, honest, brave and true hero.
He music was very important to the country music genre. He is considered the second most important influence right behind Jimmie Rodgers. In music he is most remembered for his song "Back in the Saddle Again". He also wrote and performed "Frosty the Snowman" and "Rudolph the Red Nose Reindeer".
In the business world he owned several television and radio stations in southern California. He also owned the Major League Baseball team the Angels.
Autry is a member of the Country Music Hall of Fame and the Nashville Songwriter Hall of Fame. He is also the only person on the Hollywood Walk of Fame to have a star in all 5 categories, film, radio, music, television and live performance. He also has a town named after him, Gene Autry, Oklahoma.
Autry was a member of Catoosa Lodge No.185 in Catoosa, Oklahoma and was a 33rd degree mason.