Luke P. Blackburn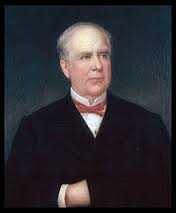 Born June 16, 1816 - Died September 14, 1887
Luke P. Blackburn was an American physician, philanthropist and politician from Kentucky.
Blackburn was born on June 16th, 1816 in Woodford County, Kentucky. He earned his medical degree from Transylvania University, the first University in Kentucky. After receiving his degree he moved to Natchez, Mississippi.
In Mississippi Blackburn began practicing medicine. He was the first to create a successful quarantine of Yellow Fever. He later started a hospital along the Mississippi for boatmen. He funded the first hospital with his own money. Later he successfully lobbied Congress to build similar hospitals along the Mississippi.
When the Civil War broke out Blackburn was too old to serve in the military. He was sympathetic to the Confederate cause and supported it financially and with his medical skills. He traveled to Bermuda, a location essential to Confederate blockade running, to combat a Yellow Fever outbreak.
His work in Bermuda led to accusations by a Confederate double agent he was plotting to infect the North with Yellow fever. According to the double agent Blackburn planned to send infected clothing and linens to the North. Although there was a considerable amount of evidence against Blackburn it was largely circumstantial. He was tried and acquitted by Canadian authorities in a Toronto court. The acquittal probably happened because many of the key witnesses were of questionable reliability. Regardless of whether the plot was real or not, it was destined to fail. It is now known Yellow fever is transmitted by mosquito, not by contact.
Blackburn stayed in Canada briefly after his trial to avoid prosecution by U.S. authorities, he was never arrested by U.S. authorities. In 1868 he returned to help fight another Yellow Fever outbreak along the Texas and Louisiana Gulf Coast. He later worked in several other communities in the South to help fight Yellow Fever.
Due to Blackburn's efforts to repair his reputation and his work with the Yellow Fever epidemic he was catapulted into the Democratic gubernatorial nomination. He won the election and became the first doctor to be governor of Kentucky. Another doctor wasn't elected as governor of Kentucky until 2003.
Blackburn passed away on September 14th, 1887.
Blackburn was a member of Landmark Lodge No. 41 in Versailles, Kentucky.