Oliver Ames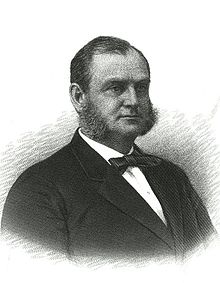 Born February 4, 1831 - Died October 22, 1895
Oliver Ames was an American politician and financier.
Ames was born in North Easton, Massachusetts on February 4th, 1831. He was initially educated in local schools in Easton. He later attended private academies in North Attleborough and Leicester, Massachusetts. After school he briefly worked in the family business before enrolling in Brown University.
The Ames family had owned a large business that started as a shovel factory. Over the years it expanded to include a variety of other businesses, including shares in the Union Pacific Railroad.
After University, Ames entered the family business. Once in the business he learned the manufacturing process and worked as a traveling salesman. In 1863, his grandfather passed away and Ames became part owner of the company. It was during this time that a rapid expansion of the company occurred and the company bought into the Union Pacific Railroad.
Ames' father, who was in Congress was approached by President Abraham Lincoln to take over the Union Pacific to get the project back on track. He used his new position to direct contracts to the family business, the contracts were converted to the company Crédit Mobilier which was owned by the Ames family. He also ousted an adversary on the Union Pacific board. Ames' father in the late 1860's created a scandal when he sold a fellow member of Congress shares in the Union Pacific Railroad for an undervalued rate. This resulted in a Congressional investigation.
Ames, as his father's heir, felt that he needed to vindicate his father through political means. He spent many years paying off the debts that were incurred by Union Pacific Railroad and other undertakings. He later entered public life when he was elected in 1883 to serve as Lieutenant Governor. He served as Lieutenant Governor until 1886, during his time as Lieutenant Governor he was able to pass legislation that helped to vindicate his father.
In 1886 he was elected Governor of Massachusetts. He served until 1890.
Ames passed away on October 22nd, 1895.
Ames was a member of Columbian Lodge in Boston, Massachusetts.