Honoré Beaugrand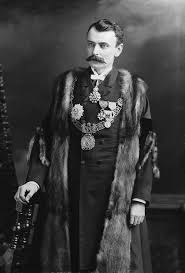 Born March 24, 1848 - Died October 7, 1906
Honoré Beaugrand was a French-Canadian journalist and politician.
Beaugrand was born on March 24th, 1848 in Berthier County, Quebec. He attended a military academy and then joined the French Military. He served in Mexico supporting the ill-fated Emperor Maximilian of Mexico.
In 1868, after the execution of Maximilian, Beaugrand moved to New Orleans where he began working for a newspaper. He moved around the United States working for a variety of newspapers. Some of the cities he worked in were St. Louis, Boston and Fall River, Massachusetts. In 1875 he started his own newspaper in Boston called The Republic. In it he detailed his political and religious views as ""very advanced Freemason, Liberal enthusiastic admirer of the principles of the French Revolution and supporter of the declaration of human rights". The paper followed him to Fall River.
In 1878, Beaugrand moved to Ottawa where he first started a new newspaper called the Fédéral. After only a month in Ottawa he moves to Montreal and starts a new newspaper called The Jester, a satirical weekly publication. In 1879, at the request of the Liberal Party he starts yet another paper called La Patrie. This new paper is a daily paper promising a bright future for Quebec.
In 1885, Beaugrand is elected Mayor of Montreal. He takes office at what was probably one of the more volatile times in Montreal history. In his first year of office he will have to deal with a smallpox epidemic and the Riel Affair.
The smallpox epidemic while Beaugrand was mayor put English and French speaking citizens against each other. As the smallpox epidemic spread, English speaking members of the city government and various English speaking newspapers in the city began to blame the epidemic on French speaking citizens, calling them unclean and the source of the disease. Eventually mandatory inoculations are required in the city. French speaking citizens refuse to be vaccinated. This leads to violence around the city. English speaking newspapers are attacked, windows are shattered and conflicts erupt around the city.
The smallpox epidemic takes place at the same moment the Riel Affair begins. Louis Riel is the leader of the Métis people. The Métis people are descendants of the First Nations and various European settlers. They are considered aboriginal people by the Canadian Government. Riel led the Métis people in what was called the Northwestern Rebellion. Riel was captured and taken to Montreal to stand trial. He was convicted of treason, which caused even more violence in Montreal as once again English speaking citizens and French speaking citizens took up sides in the issue.
In 1887, Beaugrand stepped down as mayor.
Beaugrand passed away on October 7th, 1906.
In 1873, Beaugrand joined Freemasonry, his original lodge was not available. He was instrumental in the founding of Montreal Émancipation lodge in 1897.