Aaron Thomas Bliss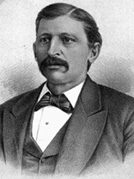 Born May 22, 1837 - Died September 16, 1906
Aaron Thomas Bliss was an American businessman and politician.
Bliss was born on May 22nd, 1837 in Peterboro, New York. He attended public schools of the time. At the age of 16 and 17 he worked in a local store where he earned a $100 to attend a private school in Morrisville, New York for one year.
During the American Civil War, Bliss enlisted in the Peterman Guards of the Tenth New York Volunteer Cavalry as a private. He was quickly promoted to lieutenant and his regiment became part of the Army of the Potomac. Before long he was promoted to captain. He was involved in several battles. During General Wilson's raid near Richmond, Bliss was captured and spent 6 months being moved around to various Confederate prisons. In 1864, Bliss escaped. He walked for three weeks until he was able to meet up with General Sherman's army near Savannah, Georgia. Bliss later rejoined his own command in Virginia.
After the war, Bliss moved to Saginaw, Michigan. There he briefly found employment before Bliss, his brother and another man formed A. T. Bliss & Company. The company manufactured lumber and was engaged in logging along the Tobacco River. In 1868, the Bliss brothers bought a lumber mill and changed the name of the company to A.T. Bliss & Brother.
In other business ventures, Bliss was the director of the Citizen's National Bank, which was reorganized into the Bank of Saginaw. He was also president and director of the Saginaw County Savings Bank.
In 1882, Bliss was elected to the Michigan state Senate. While in the Senate he helped to create a soldiers home in Grand Rapids. In 1885 he was appointed aide-de-camp on the staff of the Governor. He was given the rank of Colonel. In 1888 he was appointed aide-de-camp to commander in chief of the Grand Army of the Republic.
Also in 1888, Bliss was elected to the United States House of Representatives. He lost his reelection bid in 1890.
In 1900, Bliss was elected Governor of Michigan. He was reelected to a second term in 1902. During his term as Governor the Michigan Employment Institution for the Adult Blind was established in Saginaw, a state highway department was formed, and railroad taxation was sanctioned.
Bliss passed away in Milwaukee, Wisconsin on September 16th, 1906. He was in Wisconsin at the time to receive medical treatment.
Bliss was a member of Saginaw Valley Lodge No. 154 in Saginaw, Michigan.