William Boyd Allison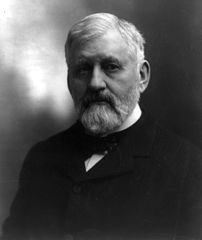 Born March 2, 1829 - Died August 4, 1908
William Boyd Allison was an American politician.
Allison was born on March 2nd, 1829 in Perry, Ohio. He was educated at the Wooster Academy. He attended Allegheny College in Pennsylvania before attending Western Reserve College in Ohio. He graduated fro Western Reserve in 1849. He studied law and began practicing in Ashland, Ohio.
In 1856, Allison was an unsuccessful candidate for district attorney genreal. The following year he moved to Dubuque, Iowa which would be his home for the rest of his life.
After arriving in Iowa, Allison becmae a part of the newly forming Republican party. He was an 1860 delegate to the Republican convention which nominated Abraham Lincoln for President of the United States.
When the American Civil War started, Allison, who was on the staff of the Governor of Iowa, was put in charge of raising regiments for service. He was given the rank of lieutenant colonel, there is no record of him ever serving in uniform. He personally helped to raise four regiments.
In the middle of the Civil War, Allison was elected to the United States House of Representatives. He served in the House of Representatives until 1870 when he attempted to run for one of the United States Senate seats. He was unsuccessful in his first bid. He left the House of Reprenatives to concentrate on the 1872, election for the second Senate seat. In 1871, the election for the Iowa legislature saw a big shift in who was in the Legislature. The election itself was largely based on who votes wanted to see in the United States Senate since at the time it was the state legislature who elected the Senator. A majority of legislatures were pro-Allison and he was easily elected to the United States Senate over the incumbant.
Allison would serve 44 years in the United States Congress, most of it in the United States Senate. He became a key player on many of the most important committees in the Senate. At least on reporter referred to him as the "the compromiser" and a "the man who brings irreconcible things together."
One of Allison's biggest challenges came in the 1908 election when the Governor of Iowa ran against him looking to create change in the party. The 1908 was the first ever Iowa congressional primary. Allison won his parties nomination on June 2nd, 1908. Just two months later, Allison would pass away and his primary challenger would be appointed to finish out his term.
Allison passed away on August 4th, 1908. For most in Iowa it was a shock when he passed away. For those who were close to him, they knew that he had been under constant medical care for the previous two years. Many who were close to him were not suprised by his passing.
Allison was a member of Mosaic Lodge No. 125 in Dubuque, Iowa.