Walter Baring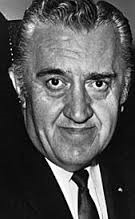 Born September 9, 1911 - Died July 13, 1975
Walter Baring Jr was a politician from Nevada.
Baring graduated from the University of Nevada with two bachelor degrees in 1934. Shortly after he was elected to two terms in the Nevada Assembly. He resigned during his second term in 1943 to serve in the United Stated Navy.
On Baring's return from the war he was elected to the Reno City Council. In 1948 he was elected to represent Nevada in the US House of Representatives. He would serve during to different periods from 1949 to 1953. He then would serve a longer length of time from 1957 to 1973.
Baring was Elected as a Democrat and his voting record the first time in congress was very liberal. In his second time in Congress, still a Democrat his voting record turned to the right, voting mostly with the conservative southerners. This included votes on Civil Rights and Segregation.
In 1968 he praised the American Independent Party nominee for President George C. Wallace and refused to endorse his own parties nominee.
Facing increasing pressure from his party in the form of primary opponents, in 1972 he lost the Democratic primary.
Baring was a member of Reno Lodge No. 13, Reno, Nevada.