Josiah Williams Begole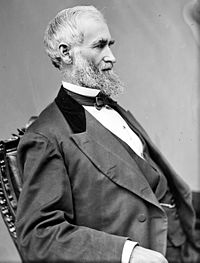 Born January 20, 1815 - Died June 5, 1896
Josiah Williams Begole was an American politician.
Begole was born on January 20th, 1815 in Groveland, New York. Begole's maternal grandfather was an American Revolution veteran.
Begole moved to Flint, Michigan, along with his siblings in 1836. There he became a school teacher. Later he became involved in town politics and became the inspector of schools, justice of the peace and township treasurer. Begole was an abolitionist and became one of the early members of the Republican party because of his stance on slavery.
From 1856 to 1864, Begole was county treasurer. He started in the lumber business during his term as county treasurer. Tragically also during this time his eldest son was killed in action during the American Civil War. He died outside of Atlanta, Georgia. It was the greatest sorrow of Begole's life.
Begole was elected to the Michigan Senate serving in 1870 and 1871. He also spent three years on the Flint City Council. He was also a delegate to the Republican National Convention where President Ulysses S. Grant was re-nominated for President.
In 1872, Begole was elected to the Untied States House of Representatives. He served only one term in Congress. After returning home he resumed his lumber business. He also got into the wagon building business, as well as banking.
By 1882, Begole had left the Republican party and became the Greenback party candidate, a party based in part on currency reform and anti-monopolism, and the Democratic party candidate for Governor. He successfully defeated the Republican candidate, which as a former Republican created problems for him with the Republican controlled legislature. As a result the one of the few things he was able to accomplish during his term was the establishment of the state bureau of labor statistics.
Begole was also an early supporter of Woman's Suffrage. In 1884 he became the first vice president of the first statewide suffrage organization, the Michigan Equal Suffrage Association.
Begole passed away on June 5th, 1896.
Begole was a member of Flint Lodge No. 23 in Flint, Michigan.