Josiah Bartlett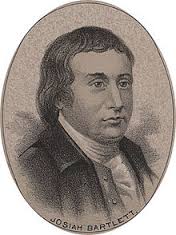 Born November 21, 1729 - Died May 19, 1795
Josiah Bartlett was an American physician, politician and jurist. He was one of the signers of the Declaration of Independence.
By the age of 17 Bartlett had learned some Latin and Greek. He had also begun training in medicine under a local doctor.
In 1751, at the age of 21 Bartlett moved to Kingston, New Hampshire. There he would setup his first medical practice. Kingston at the time was a settlement town with only a few hundred families living there.
In 1767 Bartlett, then married with 7 of his 12 children already born, began his political career. First being elected to the colonial assembly. He became a colonel in the county militia.
At this point Bartlett would be appointed to justice of the piece of Governor John Wentworth. Wentworth would regret Bartlett's appointment as the Revolutionary War drew closer. Bartlett's Whig policies brought the two men into direct conflict.
In 1774 Bartlett became part of the colonial assembly's Committee of Correspondence. This marked the beginning of Bartlett's work with revolutionary leaders of the other 12 colonies. That same year Wentworth dismissed the colonial assembly and Josiah was elected to is revolutionary successor the Provincial Assembly. The Provincial Assembly was an illegal assembly.
Also in 1774 Bartlett lost his home due to a fire, although there was no direct proof, it was believed that opposition Tories set the fire. Because of the fire, when Bartlett was appointed to the Continental Congress he declined the appointment.
In 1775 Bartlett was again selected as a delegate to the Continental Congress, this time accepting the position. For a period in the end of 1775 and the beginning of 1776 he was the only representative from New Hampshire. This meant that Bartlett would end up serving on all of the important committees as it was required that a representative from each colony would be on key committees. In 1776, when the question of independence from Britain came up, Bartlett as the representative from the Northern most colony was the first to cast his vote and it was in the affirmative. Also do to his position, he would be the second person to sign the Declaration of Independence after Congress President John Hancock.
Bartlett's lodge affiliation is not known. This may be due to confusion with another Josiah Bartlett who was also a doctor and lived during much of the same time. Many historic and masonic authors have written about Bartlett's association with the Craft.