Richard Edward "Eddy" Arnold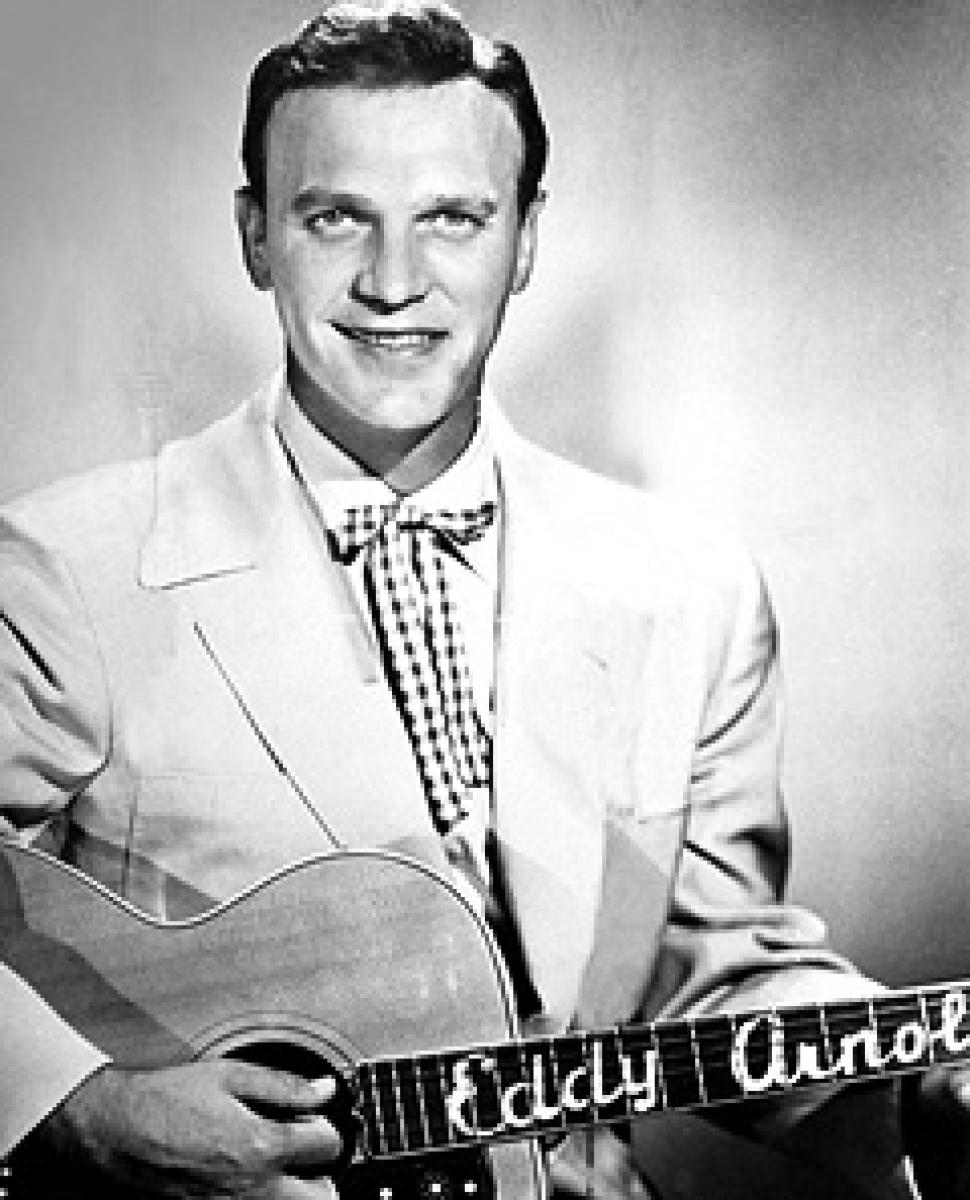 Born May 15, 1918 - Died May 8, 2008
Richard Edward "Eddy" Arnold was an American country singer.
Arnold was born on a farm near Henderson, Tennessee on May 15th, 1918. Arnold attended Pinson High School in Pinson, Tennessee. There he played guitar for school events. He left school before graduating to work on the family farm. He continued to play school functions though often arriving on a mule with a guitar strung across his back.
In 1934, Arnold debuted on WTJS-AM radio in Jackson, Tennessee, officially obtaining a job there in 1937. Over the next several years he played at a variety of radio stations from Tennessee to Missouri and Kansas.
In 1943, Arnold performed on the Grand Ole Opry. The following year signing a record deal with RCA Victor and manager Colonel Tom Parker who later managed Elvis Presley.
Arnold's first single was little noticed. His second went to No. 5 on the country music charts. It began a decade of unprecedented chart performance for Arnold. He had 57 hits throughout the next decade with several number one hits.
In the 1950's Arnold moved to television hosting The Eddy Arnold Show. He also hosted and featured on a variety of other shows into the early 1960's.
In the 1950's as Rock and Roll started gaining popularity, Arnold's popularity started to wane. In the early 1960's Arnold reinvented himself and started a second career which brought music to a whole new audience. In 1965 he had his first hit in more than decade. It was followed up by one of his better known songs Make the World Go Away.
Arnold continued recording new albums through the late 60's and 70's. In the 1980's, Arnold announced he was semi-retiring from music. In 1984, the Academy of Country Music awarded Arnold the Pioneer Award. This began a string of awards for the singers life's work. This included the song Make the World Go Away be inducted into the Grammy Hall of Fame by the National Academy of Recording Arts and Sciences and being awarded the National Medal of Arts in 2000. In 2005 he received a lifetime achievement award from the Recording Academy.
Arnold passed away from natural causes on May 8th, 2008.
Arnold was a member of East Nashville Lodge No. 560 in East Nashville, Tennessee.