Laurie Calvin Battle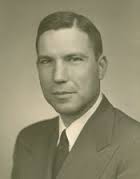 Born May 10, 1912 - Died May 2, 2000
Laurie Calvin Battle was an American politician.
Battle was born on May 10th, 1912 in Wilsonville, Alabama. He graduated from Deshler High School in Tuscumbia, Alabama in 1930. He went on to Birmingham-Southern College where he received a Bachelor of Arts degree in 1934. After attending Vanderbilt University and Scarritt College, both in Nashville he received his Master of Arts degree from Ohio State University in 1939.
In 1940, Battle became a professor at Ohio State University. In 1942, he enlisted in the United States Army during World War II. He served in the Army until 1946 when he transferred to the United States Army Reserves, serving until 1972. Among some of his other pre-politics professions were farm laborer, insurance agent and professional advocate.
In 1947, Battle began serving the first of four consecutive terms in the United States House of Representatives. He was not a candidate for renomination in 1954, he ran for the United States Senate unsuccessfully.
From 1966 to 1976, Battle served as the staff director and counsel of the House Rules Committee. He then served as special adviser to the United States League of Savings Associations, Washington, D.C. from 1976 to 1988.
Battle passed away on May 2nd, 2000.
Battle was a member of Docena Lodge No. 815 in Docena, Alabama.