Burl Icle Ivanhoe Ives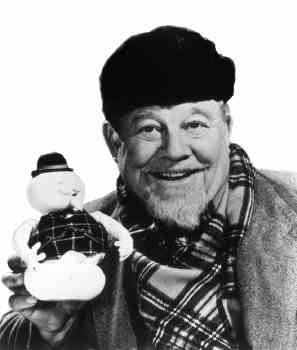 Born June 14, 1909 - Died April 14, 1995
Burl Icle Ivanhoe Ives was an American musician and folk artist.
Ives was born near Hunt City in Jasper County, Illinois June 14th, 1909. As a young man Ives with active with both the Boy Scouts of America and the Order of DeMolay. In 1924, Ives was a Lone Scout which shortly after joined with the Boy Scouts of America. On September 5th, 1927, Ives joined the Order of DeMolay. Ives attended Eastern Illinois State Teachers College from 1927 to 1929. He never graduated. During his junior year he was in an English class and realized he was wasting his time. After an exchange with the teacher as he was walking out the door, Ives slammed the door and never looked back.
In the 1930's, Ives traveled around the country working odd jobs and playing his banjo. In Utah he was arrested for vagrancy and for singing "Foggy Dew" an English-Irish folk song that local authorities considered a "bawdy song". He also attended Julliard in New York during this time.
In the 1940's, Ives started his own radio show called the The Wayfaring Stranger, named after one of his songs. He also became a member of the Almanac Singers which at various points in time had other well known members including Woody Guthrie. The Almanacs were active with the American Peace Mobilization (APM). The APM was a peace movement trying to convince the United States to not get involved with World War II with various folk songs. When the Germans invaded the Soviet Union the Almanacs changed their tune, literally. They began writing folk songs encouraging American participation in the war.
In 1942, Ives was drafted and ended up being part of Irving Berlin's This is the Army. A traveling show to military bases to help to rally and support the troops. He was honorably discharged in 1943.
In the 1950's, like many performers, Ives was blacklisted for allegedly having communist ties during the Red Scare. Ives appeared before the House Committee on Un-American Activities. This got him off the blacklist and started a long time feud with fellow folk singer Pete Seeger. Seeger accused Ives of naming names.
In the late 1950's and into the 1960's Ives appeared in several films. He was in the film Big Country for which he won an Academy Award for Best Supporting Actor.
In 1964, Ives lent his voice to the CBS presentation of Rudolph the Red Nosed Reindeer. The stop animation featured Ives as the banjo playing host of the show Sam the Snowman. Two of the songs Ives performed in the show, "Silver and Gold" and "A Holly Jolly Christmas", were instant classics. The following year Ives recorded them for an album. He released them the next Christmas taking advantage of their previous success.
Through the 70's and into the 80's, Ives performed in various ways. He lent his recognizable voice and face to a Luzianne tea as their commercial spokesperson. He also worked with the U.S. Bureau of Land Management on their campaign "This is your land - Let's keep it clean".
In 1994, Ives, a smoker of pipes and cigars, was diagnosed with oral cancer. After undergoing several surgeries that were unsuccessful in removing the disease, Ives decided to stop any future surgeries. On April 14th, 1995, Ives fell into a coma and passed away.
Ives was a member of Magnolia (now Magnolia-La Cumbre) Lodge No. 242 in Santa Barbara, California being raised in 1977. He was also a member of the Scottish Rite, Southern Masonic Jurisdiction in the Valley of Santa Barbara in 1985. Ives was coronated a 33° Scottish Rite Mason in 1987. He was elected a Grand Cross, an honorarium added to the 33° in 1993.