Alvin Morell Bentley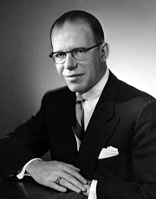 Born August 30, 1918 - Died April 10, 1969
Alvin Morell Bentley was an American politician.
Bentley was born in Portland, Maine on August 30th, 1918. He was born just three months before his father died serving in World War I in France. Despite losing his father, Bentley was well taken care of by a large inheritance he received from his grandfather. He graduated from Southern Pines High School in Southern Pines, South Carolina. From there he attended Asheville Prep School. He graduated from the University of Michigan in 1940 with a bachelor's degree.
After college, Bentley first attended the Turner's Diplomatic school in Washington, D.C. to qualify for the United States diplomatic service. He served as vice consul and secretary for the Foreign Service starting in 1942 in Mexico. He went on to serve in Columbia, Hungary, and Italy consecutively. He ended his time in the Foreign Service in 1950 taking a post with the State Department in Washington, D.C. That same year he resigned from his post when he disagreed with the foreign policy of President Harry S. Truman.
In 1952, Bentley was elected to the United States House of Representatives from Michigan. He served in the House of Representatives until 1960, when he ran, unsuccessfully, for a United States Senate seat. While in Congress, Bentley was one of five representatives who were shot on the floor of the House in 1954. Referred to as the United States Capitol shooting incident, four Puerto Rican nationalists opened fire from the visitor's balcony. Bentley was shot in the chest and survived his wounds.
After leaving Congress, Bentley continued in public service through various appointments to education related positions. He also returned to the University of Michigan to work on his Master's Degree. In 1966, while still pursuing his Master's Degree, then Governor George W. Romney appointed Bentley to the board of regents for the University of Michigan.
Bentley passed away on April 10th, 1969 while on vacation in Arizona. He passed away from an "inflammation affecting the central nervous system." This was after surgery to correct the problem had put him in a wheelchair two years earlier.
Bentley was a member of Owosso Lodge No. 81 in Owosso, Michigan.