Joel Parker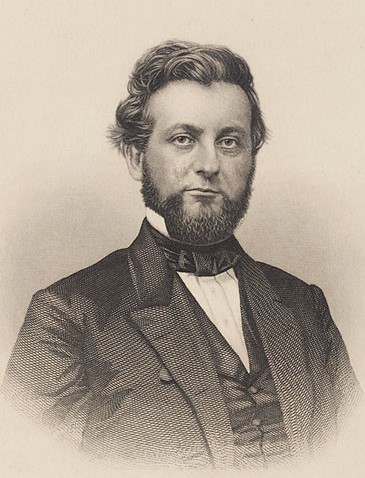 Born November 24, 1816 - Died January 2, 1888
Joel Parker was an American politician.
Parker was born on November 24th, 1816 near Freehold Township, New Jersey. He attended the College of New Jersey, now known as Princeton University, graduating in 1839. After graduation he worked in a local law firm and was admitted to the bar in 1842.
In 1847, Parker was elected as a Democrat to the New Jersey General Assembly. In 1851, he left the Legislature when he was appointed "prosecutor of pleas" of Monmouth County. In 1860 he served as a Presidential elector, casting his vote for Stephen Douglas. Also in 1860 Parker was appointed as Major General of the New Jersey Militia.
In 1862, Parker was the Democratic nominee for Governor of New Jersey. He ran as a "War Democrat" a wing of the Democratic party who felt war with the Confederacy was the only course of action. He won the general election and served as Governor from 1863 to 1866. Despite being a "War Democrat," Parker was highly critical of the Lincoln Administration. This was especially due to Lincoln's curtailing of civil liberties during the war. He castigated Lincoln for suspending habeas corpus. Parker also felt that the Emancipation Proclamation was unconstitutional.
During the war in 1863, Parker sent the New Jersey Militia to help defend Pennsylvania during Lee's Invasion of the state. The following year a levy of 12,000 men was sent to New Jersey to make up for a short fall in the Federal quota by the state. Parker convinced the Lincoln Administration that New Jersey had already done it's part for the war effort and the levy was lifted.
In late 1863, Parker attended the dedication ceremony for the Soldiers' National Cemetery. It was at that ceremony that Lincoln delivered the Gettysburg Address.
Parker established a method for when the war ended that all of the states bonds, used to settle the war debts, were sold at or above par. When the war ended the state of New Jersey had a $200,000 surplus in the state treasury.
After the war, Parker favored amnesty for those that supported the Confederacy. He was the favorite son Presidential candidate in 1868, 1876 and 1884.
Parker returned to the Governors office in 1871, serving until 1874. In 1875 he became the Attorney General of New Jersey. Later he served on the New Jersey Supreme Court from 1880 to 1888.
Parker passed away on January 2nd, 1888.
Parker was a member of Olive Branch Lodge No. 16 in Freehold, New Jersey.