Oren Harris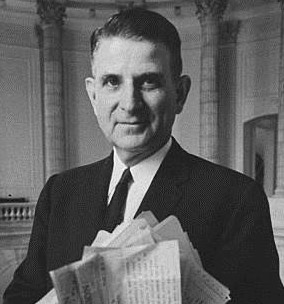 Born December 20, 1903 - Died February 5, 1997
Oren Harris was an American politician.
Harris was born on December 20th, 1903 near Hope, Arkansas. He attended public schools in Prescott, Arkansas before attending Henderson State College. He graduated from Henderson in 1929. In 1930 he completed Law School at Cumberland University in Tennessee. He was admitted to the bar the same year and opened a practice in El Dorado, Union County, Arkansas.
From 1933 to 1936, Harris served as the deputy prosecuting attorney for Union County. From 1937 to 1940 he served as the prosecuting attorney of the 13th Judicial Circuit of Arkansas.
In 1940 Harris was elected to the United States House of Representatives for Arkansas's 7th Congressional District, which later became part of the 4th Congressional. Harris continued to hold the seat through the redistricting. He also served as a delegate in the 1936 and 1940 State Democratic Convention and the 1944, 1952, 1956 and 1960 Democratic National Convention.
In Congress Harris served on the Committee on Interstate and Foreign Commerce, he also served on it's Subcommittee on Legislative Oversight. It was on the latter he was involved in the investigation into the "quiz show scandal" hearings. The issue involved television game shows in the 1950's rigging the games. Some contestants were given help to win. It led to regulations governing game shows. In the 1960's he was the Chairman of the Committee on Interstate and Foreign Commerce. In the early 1960's he was the lead House sponsor of the Kefauver Harris Amendment which required drug manufacturers to prove the effectiveness and safety of their drugs before they were approved. It also required drug manufacturers to list side effects from drugs.
In 1965, Harris was appointed by President Lyndon B. Johnson to the newly created position of United States District Judge for the Eastern and Western Districts of Arkansas. He did not resign from Congress until 1966 when he was sworn in as a judge on the same day he resigned from Congress. He was Chief Justice of the Western District from 1967 to 1973. He served as a judge until 1976.
When Harris resigned from Congress he was one of the Arkansas Congressional Delegation serving since 1953 or before. This meant there were many candidates in Arkansas eagerly awaiting to fill Harris' vacated Congressional seat.
Harris passed away on February 6th, 1997.
Harris was a member of El Dorado Lodge No. 13 in El Dorado, Arkansas. He was also a member of El Dorado Chapter No. 114, Royal Arch Masons also in El Dorado. He was a member of the Ancient Accepted Scottish Rite of the Southern Masonic Jurisdiction in Little Rock, Arkansas.