Edward Bates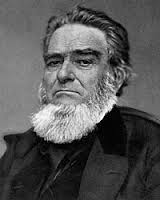 Born September 4, 1793 - Died March 25, 1869
Edward Bates was a lawyer and statesman from Missouri. He served as Missouri's first Attorney General after it was admitted as a state. He also served under President Lincoln as the US Attorney General from 1861-1864. He was the first cabinet member ever appointed from west of the Mississippi River.
Bates was the younger brother of Frederick Bates second Governor of Missouri.
Bates married Julia Coalter and they raised 17 children together.
Bates was a member of Missouri Lodge No. 12. It also appears he was the 2nd Grand Master of Missouri, this is unconfirmed.