Alexander Williams Randall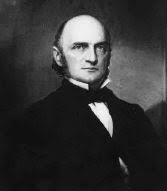 Born October 31, 1831 - Died July 26, 1872
Alexander Williams Randall was an American politician.
Randall was born in Ames, New York on October 31st, 1819. He attended Cherry Valley academy and then studied law with his father who was a judge on the court of common pleas. He was admitted to the bar at the age of 19 in New York.
Shortly after being admitted to the bar, Randall moved to the Wisconsin Territory. He opened a law practice in Waukesha in 1840. In 1845 he became the postmaster in Waukesha.
In 1846, Randall was part of the Constitutional Convention for Wisconsin prior to their admission as a state in 1848. During the Convention Randall, and abolitionists, introduced a resolution putting the question of "Negro suffrage" to a statewide referendum.
In 1855, Randall was elected to Wisconsin State Assembly. Also starting in 1855 he was appointed a circuit judge in Milwaukee.
In 1857, Randall was elected Governor as a Republican. At the Republican convention prior to the election he was the dark horse candidate. The two principal candidates, Randall was not one of them, fought it out at the convention. When neither of the principal candidates could get a majority, the delegates were released and Randall won the nomination as the compromise candidate.
As governor, Randall conducted an investigation of fraud perpetrated by his predecessor when it came to Federal land grants for railroad. In 1859, Randall was reelected. As the American Civil War approached he advocated for secession if Abraham Lincoln was not elected President. After the start of the Civil War, Randall raised 18 regiments, 10 artillery batteries, and three cavalry units before leaving office, exceeding Wisconsin's quota by 3,232 men.
In 1861, after Randall left the Governor's office, President Lincoln appointed him as the United States Minister to the Papal States. In 1863 he was appointed as the Assistant Postmaster General. In 1866 President Andrew Johnson appointed him as the United States Postmaster General. He remained Postmaster General until 1869. When Johnson was impeached, Randall remained loyal to him and testified on his behalf.
After leaving the Federal Government Randall moved to Elmira, New York where he resumed practicing law. He passed away in Elmira on July 26th, 1872.
Randall was a member of Waukesha Lodge No. 37 in Waukesha, Wisconsin.