Bishop Walden Perkins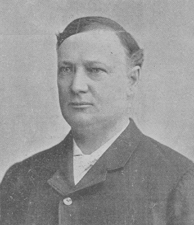 Born October 18, 1841 - Died June 20, 1894
Bishop Walden Perkins was an American politician.
Perkins was born on October 18th, 1841 in Rochester, Ohio. He attended the common schools in Ohio before attending Knox College in Galesburg, Illinois.
After graduating Perkins traveled west where he prospected for gold in California and through the New Mexico territory. He did this until 1862 when he enlisted in the Union Army during the American Civil War. He served as a sergeant, adjutant and captain.
After the war Perkins studied law in Ottawa, Illinois. He was admitted to the bar in 1867. He began practicing law in Princeton, Indiana. He eventually moved to Oswego, Kansas and continued his practice.
In Oswego, Perkins became the local county attorney for the Missouri, Kansas & Texas Railroad for two years. In 1869 he became the prosecuting attorney for Labette County. From 1870 to 1882 he was a probate judge for Labette County. During the same time he became the editor for the Oswego Register.
In 1882, Perkins was elected as a Republican to the United States House of Representatives. He served in the House until 1891 when he failed to receive the nomination in 1890. At the end of 1891, he was appointed to fill a vacancy in the United States Senate when the sitting Senator passed away. He served for just over a year when a successor was elected.
After leaving the Senate Perkins stayed in Washington, D.C. and resumed his legal practice.
Perkins passed away on June 20th, 1894.
Perkins original lodge is not known. He was admitted to Adams Lodge No. 63 in Owego, Kansas on April 12th, 1870.