Robert Henry Goldsborough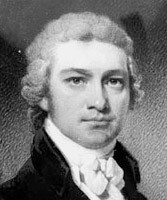 Born January 4, 1779 - Died October 5, 1836
Robert Henry Goldsborough was an American politician.
Goldsborough was born near Easton, Maryland at "Myrtle Grove" on January 4th, 1779. He was educated by private tutors before attending St. John's College at Annapolis, Maryland where he graduated in 1795. After graduation he engaged in agricultural pursuits.
In 1804, Goldsborough was elected to the Maryland House of Delegates for the first time, serving for just one year.
During the War of 1812, Goldsborough commanded a troop of horsemen in the Maryland Militia.
In 1813, Goldsborough was appointed as a United States Senator as a Federalist when the Maryland Legislature failed to elect a Senator for the term starting March 4th, 1813. He served until March of 1819. During his term in the Senate he was elected to the American Antiquarian Society in 1814. In 1817, he became instrumental in establishing the the Easton Gazette.
After his first term in the United States Senate, Goldsborough resumed his agricultural pursuits. In 1825 he returned to the Maryland House of Delegates. In 1835, he was reelected to the United States Senate as an Anti-Jacksonian, Whig. He served in the Senate until the time of his passing.
Goldsborough passed away on October 5th, 1836.
Goldsborough was raised in St. Thomas' Lodge No. 37 in Easton, Maryland. The lodge became dormant in 1807. It was revived in 1823, with Goldsborough being one of the founding members of the new lodge, Coats' Lodge No. 76. He served as Worshipful Master of his lodge in 1824. It was also in 1824 that Goldsborough served as the Grand Senior Warden of the Grand Lodge of Maryland.