Robert Jackson Gamble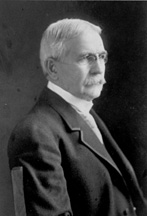 Born February 7, 1851 - Died September 22, 1924
Gamble was born in Genesee County, near Akron New York on February 7th, 1851. At the age of eleven he moved with his family to Fox Lake, Wisconsin. He attended Lawrence University in Appleton, Wisconsin where he studied law. He graduate in 1874 and was admitted to the bar the following year. He opened a legal practice in Yankton in the Territory of Dakota.
Gamble, a Republican, became the district attorney for the second judicial district of the Territory of Dakota in 1880. From 1881 to 1882 was the city attorney for Yankton. In 1885 he became a member of the Territorial council.
In 1894, Gamble was elected to one of the at-large seats in the United States House of Representatives for South Dakota, which became a state in 1889. In 1896 he ran unsuccessfully for re-election, but was elected again to the seat in 1898.
In 1901 Gamble was elected to the United States Senate. He served two terms until 1913, when he was an unsuccessful candidate for re-nomination. While in the Senate he was on the Senate Committee on Indian Depredations. The committee recognized claims against American Indians for raids and other attacks outside of any declared war. He later served as the Chairman of the United States Senate Committee on Indian Affairs.
After leaving Congress, Gamble moved to Sioux Falls, South Dakota in 1915. From 1916 to 1924 he served as referee in bankruptcy for the southern district of South Dakota. He also was a member of the National Executive Committee of the League to Enforce Peace. A group that was created in the United States by Americans who were concerned about the start of World War I and America's involvement in the war.
Gamble passed away on September 22nd, 1924.
Gamble was a member of St. John's Lodge No. 1 in Yankton, South Dakota. He was also a member of DeMolay Commandery of Knights Templar and Oriental Consistory Ancient Accepted Scottish Rite, Southern Masonic Jurisdiction, also in Yankton. He was a member of El Riad Shrine Temple in Sioux Falls, South Dakota.