James Edward "Pa" Ferguson Jr.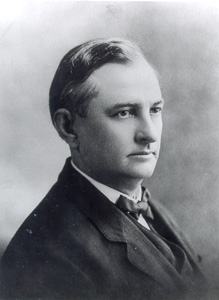 Born August 31, 1871 - Died September 21, 1944
James Edward "Pa" Ferguson Jr. was an American politician.
Ferguson was born on August 31st, 1871 in Salado, Texas. At the age of 12 he entered Salado College, where he was eventually expelled for disobedience. At the age of 16 he left home and drifted through several western states. During his travels he was employed in a vineyard, a mine, a barbed wire factory and a grain ranch. After he returned to Texas he studied law in Bell County and was eventually admitted to the bar.
In 1903, Ferguson became the city attorney of Belton, Texas. There he established Farmers State Bank. In 1906 he sold Farmers State Bank and started Temple State Bank.
In 1914, Ferguson was elected as the 26th Governor of Texas. He served from January 1915 to August 1917. In 1916, Ferguson vetoed the appropriations bill for the University of Texas. This was retaliation for the University not removing faculty members which Ferguson found objectionable. One of those he wanted removed was his former political rival William Harding Mayes, who had ran against Ferguson for Governor. During the campaign for Governor, Ferguson felt Mayes had taken the unethical move of using newspapers he owned to spread false information about him.
Ferguson's veto triggered a drive to impeach him. Many of the Texas legislature were allies of Mayes. Ferguson was indicted on 31 charges and then convicted on 10 charges. One was the claim he took $156,000 from an unnamed source. Ferguson was removed office and disqualified from holding any other political office in Texas. Despite his disqualification, he ran for election as Governor in the next election cycle unsuccessfully. He ran unsuccessfully for the United States Senate in 1920. He was also on the Presidential ballot in Texas, finishing on the bottom of the ballot.
In 1924, Fergusson convinced his wife to run for Governor. She was one of two women who won the Governor's office in the same year. In January 5th, 1925, Nellie Tayloe Ross was sworn in to office as Governor of Wyoming. On January 20th, 1925, Miriam Ferguson, Ferguson's wife, was sworn in as the Governor of Texas
Ferguson passed away on September 21st, 1944 after suffering a stroke.
Ferguson was a member of Knob Creek Lodge No. 401 in Temple, Texas. He was also reported to be a member of the Ancient Accepted Scottish Rite, Souther Masonic Jurisdiction.