Richard Keith Call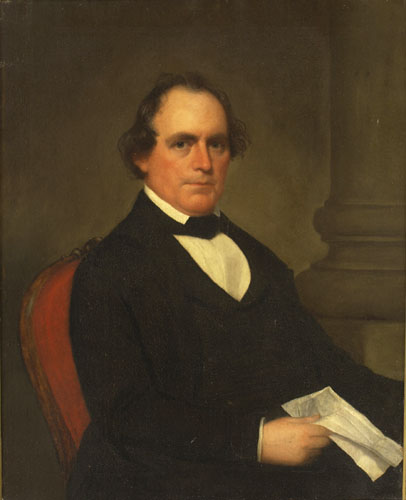 Born October 24, 1792 - Died September 14, 1862
Richard Keith Call was an American politician.
Call was born on October 24th, 1792 in Pittsfield, Virginia. At the age of 8 his widowed mother moved the family from Virginia to Kentucky. There they settled on land owned by Call's uncle. In 1810, Call's mother passed away and Call moved to Tennessee to live near another uncle and to get a formal education. In 1813 he left school to fight in the Creek War, also known as the "Red Stick" War. The war was fought involving different factions of the Creek Indians, the United States and European Empires.
Call's efforts during the war came to the notice of General Andrew Jackson. In 1814, Call was commissioned as a first lieutenant and went with Jackson to serve as his personal aide in Florida. In 1821, Call returned with Jackson to Florida when Jackson was setting up a territorial government after the Untied States acquired Florida from Spain. The following year, Call resigned from the Army and decided to make Florida his home. He opened a legal practice in Florida shortly after 1822.
In 1824 Call was married to Mary Letitia Kirkman. Kirkman's parents were enemies of Jackson and opposed the marriage because of Call's close relationship with Jackson. Jackson invited the couple to be married at his home, The Hermitage.
Call made his home in Florida with his family the rest of his life. He was elected to the Legislative Council of the territory and served as a delegate to the United States Congress in the 1830's. He also bought and developed two plantations in Florida. The second Grove Plantation, was purchased by one of Call's descendants in the early 20th century. It was later given to the state for the purpose of making a museum.
In 1836, Call was appointed for the first time as Governor of the Florida territory. The first appointment came from his old friend, now President, Andrew Jackson. During this term he was also a brigadier general of the territorial militia. He led forces fighting the Seminole Indians winning victories at the second and third Battles of Wahoo Swamp. In 1839, Call was replaced by President Martin Van Buren after a dispute between the Florida territory and the Federal Government over their assistance during the Seminole Wars.
In 1840, Call crossed party lines to support William Henry Harrison in his defeat of Van Buren. Harrison re-appointed Call as the territorial Governor of Florida, although this came at a high price for Call who had alienated potential voters in Florida. During his second term Call worked to reduce the financial problems Florida was experiencing. This helped create the path Florida needed to become a state. Call left office in 1844. The following year Florida became a state and Call ran for Governor. He was defeated and many point to his support of Harrison as the cause of his defeat.
Call passed away on September 14th, 1862 on his plantation the Grove.
Call was raised in Cumberland Lodge No. 8 in Nashville, Tennessee. After he affiliated with Centerville Lodge No. 18 in Leon County, Florida, where he served as Worshipful Master. He then affiliated with Concordia Lodge No. 28 in Gadsden County, Florida. In 1830 he assisted in the formation of the Grand Lodge of Florida and served as the Grand Master of Florida in 1851. In 1847 he was made an honorary member of Florida Royal Arch Chapter No. 1 Royal Arch Masons and an honorary member of the Grand Chapter of Florida.