Archie Bleyer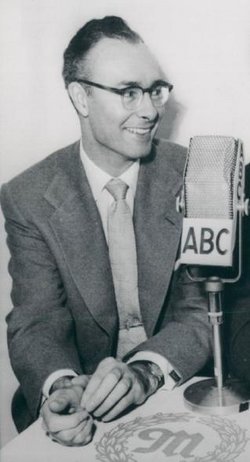 Born June 12, 1909 - Died March 20, 1989
Archie Bleyer was an American musician and band leader.
Bleyer was born in New York City, New York on June 12th, 1909. His father was a well known trumpet player of the time. His father even played at the Metropolitan Opera. Bleyer himself started playing piano at the age of 7. In 1927, Bleyer went to Columbia University. His original major was electrical engineering. In his sophomore year he changed his major to music. He left college without graduating to become an arranger.
In the 1930's Bleyer wrote a number of songs that were recorded. He also began directing his own band. While directing his band he worked with a variety of people including Johnny Mercer who became better known as a songwriter and co-founder of Capitol Records.
In 1946, Bleyer became musical director for Arthur Godfrey. Many attribute Godfrey's success to Bleyer who had a creativity and understanding of the music that Godfrey did not posses. In many ways Bleyer was the mentor to Godfrey despite Godfrey being the elder of the two.
In 1952, Bleyer started Cadence records. Within a year, Cadence, at least in part, was the end of Godfrey and Bleyer's relationship. In 1953, Bleyer recorded Don McNeil, a Chicago based radio personality. At the time McNeil was not a competitor of Godfrey, although he was once. Godfrey still saw him as a competitor and confronted Bleyer about it. According to Godfrey's account of the events, when Godfrey confronted Bleyer about the issue and threatened to fire him, Bleyer simply shrugged and said "do what he had to do". It is also believed that Godfrey, in part, fired Bleyer for dating another staff member, Janet Ertel, which Godfrey expressly forbade. Bleyer later married Ertel in 1954.
Cadence records continued until 1963. During Bleyer's time with Cadence he produced and work with many artists including Andy Williams and the Everly Brothers. Bleyer had an intense dislike for Rock and Roll. Despite his dislike he signed pioneering garage-rock guitarist Link Wray. Cadence put out one album from Wray and a second was recorded. Bleyer disliked the album so much that he broke his contract with Wray and sealed the album away. The album wouldn't see the light of day for decades.
In 1964, Bleyer could not accept the changing pop music market with the coming British Invasion, so he sold Cadence to Andy Williams who managed the Cadence catalog under Barnaby Records. Bleyer held on to the unreleased Wray album in the sale.
Bleyer retired with his Janet to Sheboygan, Wisconsin. In Wisconsin on March 20th, 1989 Bleyer passed away from the effects of Parkinson Disease.
Bleyer was a member of St. Cecile Lodge No. 568 in New York City, New York.