Westmoreland "Morley" Davis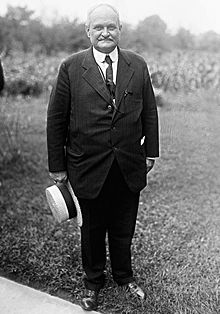 Born August 21, 1859 - Died September 2, 1942
Westmoreland "Morley" Davis was an American politician.
Davis was born on August 21st, 1859 on a boat at sea. He grew up during the American Civil War in a wealthy family. During the Civil war his father passed away, it is unclear as to the cause, and the families wealth was completely wiped out. This left the family with financial problems. Davis' mother did the best she could to provide for her son. At the age of 14, Davis won a scholarship for the Virginia Military Institute. He was the youngest cadet ever to attend. He graduated in 1877.
After teaching for two years, Davis worked as a clerk for a railroad company. In 1883 he did one year of post graduate work at the University of Virginia. The following year he enrolled at Columbia Law School. He graduated from Columbia in 1886. After graduation he joined a prestigious law firm in New York City. His legal career in New York made him wealthy before he returned to Virginia.
In 1903, Davis bought Morven Park, a 1,000 acre historic estate and horse park in Leesburg, Virginia. Davis and his wife were avid equestrians. Davis founded the Loudoun Hunt, becoming the Master of Foxhounds for the club. On the estate he also took up farming, despite his lack of experience in the field. Davis advocated for reform in the farming industry. He especially advocated for the use of science to improve productivity and sanitation.
In 1912, Davis bought the magazine Southern Planter. At the time one of the most popular magazines in the South. He used the magazine to advocate for the reforms he was fighting for in the farming industry.
In 1917 Davis was elected as a Democrat to be the 48th Governor of Virginia. Davis was elected as a "wet" or anti-prohibition candidate. As governor Davis continued to advocate for changes in the farming industry. He pressed for aid money to farmers, as well as money for scientific research to aid the farming industry. He also increased funding to Virginia's Colleges and Universities. Overall Davis reformed and modernized the Virginia state government.
Davis passed away on September 2nd, 1942.
Davis was a member of Olive Branch Lodge No. 114 in Leesburg, Virginia.