Thomas Robert Bard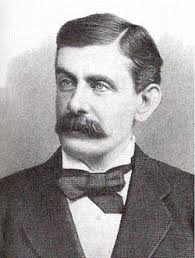 Born December 8, 1841 - Died March 5, 1915
Thomas Robert Bard was an American politician.
Bard was born in Chambersburg, Franklin County, Pennsylvania on December 8th, 1841. He attended local common schools and graduated from Chambersburg Academy in 1858. He studied law in school and before he graduated got a job with the Pennsulvania Railroad.
In 1864, Bard moved to California. From 1868 to 1873 he served on the Board of Supervisors for Santa Barbara County. In 1871, he was appointed as a commisioner to organize Ventura County. He also laid out plans for Port Hueneme, Californa, which became his home for the the rest of his life.
In 1884, Bard was a a delegate to the Rebublican National Convention. He served on the California Board of Agriculture from 1886 to 1887.
In 1887, Bard became a founding board member of Occidental College.
In 1899, Bard was elected to fill a vacancy in a United States Senate term which began earlier in the year. Bard served from 1900 to 1905 in the United States Senate. He served on the committee of fisheries and the committee of irrigation. The former he was the chairman of the committee. He most notable achievement was the appoint of George S. Patton, later General Patton, to West Point. Bard failed to win re-election in 1904.
After leaving the Senate, Bard became a successful businessman. Most notably he was a founder of UNOCAL a major petroleum explorer and marketer.
Bard passed away on March 5th, 1915.
Bard was a member of Hueneme Lodge No. 311, presumably in Port Hueneme, California. It appears Hueneme Lodge No. 311 merged with Oxnard Lodge to become Oxnard Lodge No. 341 some time around 1903.