William Booth Taliaferro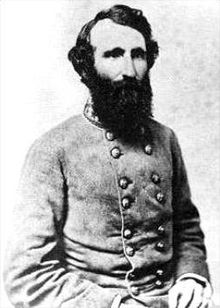 Born December 28, 1822 - Died February 27, 1898
William Booth Taliaferro was an American politician and Confederate soldier.
Taliaferro was born on December 28th, 1822 in Gloucester County, Virginia. He attended Harvard University and then The College of William and Mary where he graduated in 1841.
After graduating, Taliaferro joined the United States Army and served during the Mexican-American War. After the war he returned to Virginia where he was elected to the Virginia House of Delegates. He also continued his military service. He was placed in command of a division of the Virginia state militia. His division was stationed at Harper's Ferry following John Brown's raid on the town arsenal.
In 1861, Taliaferro became Commander of the state militia. It is believed he took Virginia's first aggressive act in the Civil War. He was promoted to colonel and served in several engagements. Later his brigade came under the command of Maj. Gen. Thomas J. "Stonewall" Jackson. Although Jackson respected Taliaferro's military skill and command style, the two very rarely agreed and Taliaferro did not like being under Jackson's command. Later in the war, when Taliaferro was up for promotion to brigadier general, Jackson initially opposed his promotion. Eventually Jackson withdrew his objection and Taliaferro was promoted. Taliaferro's last battle under Jackson was the Battle of Fredericksburg.
After Fredericksburg, Taliaferro was given command of the Savannah district in Georgia. There he led troops at the Battle of Fort Wagner on Morris Island. The battle was depicted in the film Glory.
In 1864, Taliaferro was given command of all forces in the Eastern district of Florida. After the battle of Olustee he was given command of all of South Carolina's forces as well. When Maj. Gen. William T. Sherman entered the state from Savannah, Taliaferro was still in command up to the point his Florida and South Carolina forces surrendered. After, Taliaferro returned to Virginia.
After the war, Taliaferro returned to the state legislature.
Taliaferro passed away on February 27th, 1898.
Taliaferro was a member of Williamsburg Lodge No. 6 in Williamsburg, Virginia. He later affiliated with and become the first Senior Warden of Botetourt Lodge No. 7 in Gloucester Court House, Virginia. From 1876 to 1877 he served as the Grand Master of the Grand Lodge of Virginia.