Augustus Octavius Bacon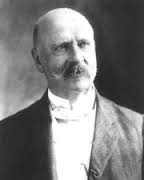 Born October 20, 1839 - Died February 14, 1914
Augustus Octavius Bacon is an American politician.
Bacon was born on October 20th, 1839. He graduated from the University of Georgia in 1859 and the University of Georgia School of Law in 1860. He was a member of the Phi Kappa Literary Society while at university.
Bacon considered himself an Anglophile and once commented that "all the blood in me comes from English Ancestors." Despite being an Anglophile he did not want to see the United States go the way of Great Britain and opposed the Spanish-American War.
Bacon served in the Army of the Confederate states of America when the American Civil War broke out.
After the war he served in the Georgia House of Representatives from 1871 to 1886 and was speaker of the house for much of that time.
In 1894 Bacon was elected to one of Georgia's U.S. Senate seats and served three consecutive terms. He served on several committees and would serve as President pro temore of the United States Senate.
Bacon passed away on February 14th, 1914.
After his passing Bacon's will came into question during the Civil Rights movement. Bacon had given land in his will for the establishment of a "whites only" park. The park was the center of two Supreme Court cases. The first established that the park was a violation of the Fourteenth Amendment. The second returned the land to Bacon's heirs since it could not be used as a park in the manner that he specified in his will.
While alive Bacon donated 100 acres of land to help establish a Masonic Orphanage.