Theodore M. Berry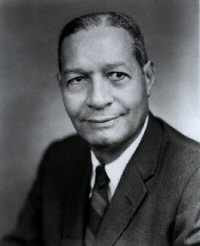 Born November 5, 1905 - Died October 15, 2000
Theodore M. Berry was an American politician and Civil Rights leader.
Berry was born in Maysville, Kentucky on November 5th, 1905. Born into poverty he overcame many obstacles in his life to achieve his future success. In his senior year of high school he won an essay contest under the pseudonym Thomas Playfair. He did this after the all-white panel had rejected his initial entry. He graduated as class valedictorian, the first African-American in Cincinnati to hold the honor. He continued on to the University of Kentucky and its law school. He worked his way through college in the steel mills in Newport, Kentucky.
In 1932, Berry was admitted to the Ohio bar association. The same year he became the president of the Cincinnati branch of the NAACP. He served as the Cincinnati NAACP president until 1946. In 1938, he was appointed the first black assistant prosecuting attorney for Hamilton County.
During World War II, Berry served in the Office of War Information as morale officer. His job regularly took him to Washington D.C. The trips to the nation's capital prompted Berry to change his political affiliation from Republican to Democrat.
In 1945, Berry defended three black Army Air Force Officers. The three were members of the Tuskegee Airman. They had protested the segregation of an officer's club in Indiana. Berry was able to get two of the men acquitted of the charges. The third was pardoned by the Air Force in 1995.
Starting in 1947, Berry began working with the NAACP Ohio Committee for Civil Rights Legislation where he worked on equal employment and fair housing issues. Also in 1947 he began his political career. He initially lost his bid for City Council in 1947, in 1949 he won a seat on the City Council in Cincinnati. In 1955, he was elected vice mayor. In 1963, he campaigned to get back on the City Council. Two years earlier he stopped working with the NAACP Ohio Committee for Civil Rights Legislation.
In 1965, Berry was appointed by President Lyndon B. Johnson to head the Office of Economic Opportunity Community Action Programs. This included Head Start, Job Corps, and Legal Services.
In 1971, Berry returned to the City Council. In 1972, he was elected the first African-American mayor of Cincinnati. He held the mayor's office for four years.
In the 1980's and 1990's, Berry worked to return proportional representation in Cincinnati. He firmly believed it gave more power to black voters.
Berry passed away on October 15th, 2000 at the age of 94.
Berry was a member of the Most Worshipful Prince Hall Grand Lodge of Ohio F&AM.