Richard Tucker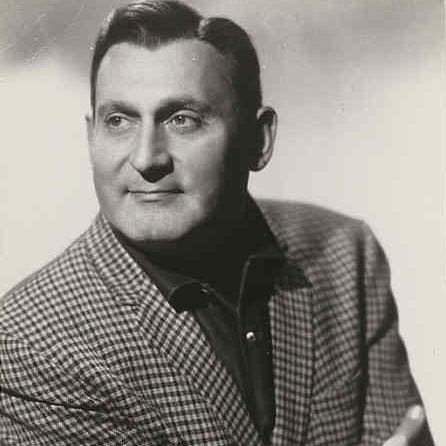 Born August 28, 1913 - Died January 8, 1975
Richard Tucker was an American operatic tenor.
Tucker was born Rivn (Rubin) Ticker in Brooklyn, New York on August 28th 1913. His parents were Bessarabian Jewish immigrants, coming to the United States just two years before Tucker was born. By the time Tucker was going into the 1st grade, the family had adopted the surname of "Tucker." His musical aptitude was discovered at a young age and he performed at the Tifereth Israel synagogue in lower Manhattan. While still in high school he performed for weddings and bar mitzvahs as a cantorial student, later he worked his way up to a part time cantor and then a full time cantor at Temple Adath Israel in the Bronx.
In 1936, Tucker married Sara Perelmuth. Sara's brother Yakob had worked his way up from part time Jazz violinist and lyric tenor to a national radio star. Yakob had ambitions of an operatic career as well and eventually got a job with the Metropolitan Opera company under the name of, Jan Peerce. Peerce was skeptical of Tucker's ability and it eventually caused a permanent rift between the two men.
In 1941, Tucker, against the wishes of his mentor Paul Althouse, who had come up in the final years of Enrico Caruso's long reign at the Met, auditioned for the Metropolitan Opera Company. He was unsuccessful with his audition. Edward Johnson, the general manager of the Metropolitan Opera Company, paid a surprise visit to Tucker at one of his performances in Temple and signed him immediately to a contract.
In 1949, Tucker's rapidly ascending career was confirmed when Arturo Toscanini, engaged Tucker to sing the role of Radames for the NBC broadcasts of a complete performance of Aida opposite Herva Nelli. It was the first time a full opera was broadcast on national television. Albums of the performance were made. Later it was put on CD, VHS DVD a testimony to the importance of the moment.
In the 1950's and 1960's after the Met season had ended, Tucker appeared on stages around the country. He also appeared in a series of "Puccini night" open air concerts in Lewisohn Stadium in New York City, New York.
Through out his career, Tucker officiated as cantor during the sacred days in the Jewish calendar. He had three sons with Sara and oversaw the religious development of all three of his sons as a strict patriarch.
Tucker had a well crafted public persona of a driven, competitive and overwhelmingly self-confident performer. The man behind the scenes was a more care-free individual. He often played pranks on fellow performers, generally during a performance getting a smile from his fellow performers and a laugh from the audience. Robert Merrill, a baritone, was working with Tucker during a broadcast of La forza del destino, Tucker put a nude picture in a trunk Merrill opened on stage.
On January 8th, 1975, Tucker while on tour with Merrill suffered a heat attack and passed away.
Tucker was a member of Perfect Ashlar Lodge No. 604, in New York City, New York.