William Mark Sexson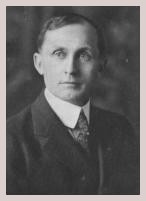 Born July 8, 1877 - Died December 20, 1953
William Mark Sexson was an American clergyman and youth leader.
Sexson was born on July 8th, 1877 in Arnica, Missouri. By the age of 17 he had become an ordained minister.
In 1902, after getting married, Sexson moved to Bloomfield, Indiana. It was in Bloomfield that Sexson began his masonic journey becoming a member of Bloomfield Lodge No. 84. Eventually the couple moved to Indianapolis where Sexson attended Butler College and became an Evangelist.
In 1906, Sexson moved to Cleveland, Oklahoma where he became a minister at a Christian Church.
Once in Oklahoma, Sexson became very busy with Masonic activities. After arriving he had gone through his Scottish Rite degrees. Eventually he moved to McAlester where he became the secretary of the Scottish Rite bodies in McAlester. In 1913 he became a 33° mason in the Southern Masonic Jurisdiction. He was also member of York Rite and was a member of McAlester Commandery No. 6. He was a member of the Order of Eastern Star and would become the Grand Worthy Patron of the Grand Chapter of Oklahoma.
It was during Sexson's many travels as a Master Mason and in the various appendant bodies that Sexson became familiar with the newly formed Order of DeMolay. It was on this subject that he was asked to speak at an Order of Eastern Star meeting. It was around this time that he determined that a similar organization should be started that was meant for young ladies. The organization would teach similar skills to the Order of DeMolay. Sexson himself wrote the ritual and on April 6th, 1922 171 girls were initiated into the organization.
Sexson passed away on December 20th, 1953.
After founding the Order of Rainbow for Girls, Sexson would go on to become the Grand Master of Oklahoma in 1928. He was also a Noble of the Mystic Shrine.