Richard Pryor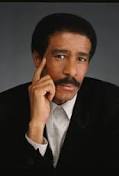 Born December 1, 1940 - Died December 10, 2005
Richard Franklin Lennox Thomas Pryor is an American comedian, actor, director, satirist and writer.
Pryor was born in Peoria, Illinois. From the age of 10 he was raised by his maternal grand mother in the brother that see ran, after his mother had abandoned him.
Pryor spent a short time in the U.S. Military from 1958 to 1960.
In 1963 Pryor moved to New York and began appearing regularly in Night Clubs with artists such as Bob Dylan and performers such as Woody Allen. At the time Pryor was inspired by Bill Cosby and his comedy was more middlebrow in comparison to the material that he would use later in his career.
In 1969 Pryor headed to California and signed with the record label Laff Records. In 1973 Pryor appeared in a documentary called Wattstax, in the film he riffed on the tragic-comic absurdities of race relations in Watts and through out the nation.
In 1974 Pryor would release his third album with the record label Stax that he had signed with the year before. Laff claimed that they owned all of Pryor's material and attempted to block the release. After negotiations the album was released. Pryor's third album would be certified gold by RIAA and won a Grammy for Best Comedic Recording at the 1975 Grammy's.
In the 1970's Pryor also began working in television as a writer and would receive an Emmy for some of his work.
In 1979 Pryor visited Africa and on his return he swore he would never use the "n" word again in his comedy.
In 1986 Pryor was diagnosed with multiple sclerosis (M.S.). In 2005 Pryor would pass away from a heart attack in Los Angles.
Pryor is listed as number 1 on Comedy Central's list of greatest stand-up comedians.
While living in Peoria in the early 1980's Pryor would join Henry Brown Lodge No. 22.