Arthur "Harpo" Marx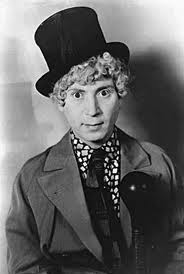 Born November 23, 1888 - Died September 28, 1964
Arthur "Harpo" Marx was an American comedian, film star, mime artist and musician.
Marx was born on November 23rd, 1888 in New York City, New York.
Harpo Marx as he was most commonly known was born Adolph Marx. Sometime around 1911 he changed his name to Arthur for no other reason then he disliked the name Adolph. There were theories that he changed his name during World War I or World War II due to anti-German sentiment in the United States. These theories have been proven false.
Harpo appeared in many films with his brothers who billed themselves as the Marx Brothers. The comedy team made several movies whose plots included situation and physical comedy. Harpo himself never spoke in any of the films. Instead he used his skill with props and pantomime to communicate with the other characters on screen. Most notably he used a horn or a cane that was actually a lead pipe and a horn squeeze ball on one end.
Harpo also became famous for his signature trench coat which seemed to contain everything in the universe. He pulled from his coat just the right things to add to the scene. For example, once in a scene with his brother Groucho, Harpo was informed you can't burn the candle at both ends. Harpo's reply was to pull a candle form his coat with a flame at both ends.
Harpo was also an accomplished musician and played the harp in every one of his movies.
In his private life, Marx and his wife adopted several children. In an interview with George Burns, Marx was asked how many more children he and his wife intended to adopt. His answer, "one for every window they had," so that when he left the house there was a child waving in every window.
Marx passed away on September 28th, 1964.
Marx's lodge is unclear. Several articles and stories link him with the fraternity. This includes a colorful tale told by his younger brother, Groucho Marx. In the story Groucho tells how Harpo had a life long dream of becoming a Freemason to follow in the footsteps of one of their uncles. He successfully fulfilled that dream and his Masonic pin was his prized possession.