Charles Wakefield Cadman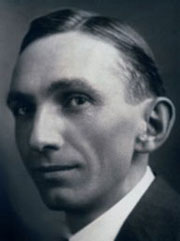 Born December 24, 1881 - Died December 30, 1946
Charles Wakefield Cadman was an American composer.
Cadman was born in Johnstown, Pennsylvania on December 24th, 1881. At the age of 13 he began to learn piano. Eventually he moved to Pittsburgh where he studied under Luigi von Kunits and Emil Paur. Both men were with the Pittsburgh Symphony Orchestra. Kunits was the concertmaster and Paur was the conductor. This was the extent of his training.
In 1908, Cadman was appointed as the music editor and critic of the Pittsburgh Dispatch. He later received a job with the Smithsonian Institute to record American Indian Music. He moved to Nebraska and lived on Omaha and Winnebago reservations. While living with the tribes he learned their music and to play their instruments.
Cadman wrote several articles about American Indian music. He also toured giving a speech called the "Indian Talk" across America and Europe. He also became part of what was known at the time as the Indianist movement, an attempt by several composers between 1890 and 1920 to synthesize American Indian music and integrate with more traditional western styles.
Cadman's early works were not well received until American Soprano Lillian Nordica sang his "From the Land of the Sky-Blue Water." It was one of Cadman's several compositions with Native American influences.
Cadman moved to Los Angeles and began working in the new movie industry. He was considered one of the top movie composers. He also helped to found the Hollywood Bowl Orchestra. He often performed with the orchestra as a soloist.
Cadman passed away on December 30th, 1946.
Cadman was a member of Albert Pike Lodge No. 484 in Los Angeles, California. He was also a member of the Ancient Accepted Scottish Rite, the York Rite and the Ancient Arabic Order of Noble Mystic Shrine.