John Commingers Ainsworth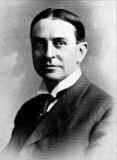 Born June 6, 1822 - Died December 30, 1893
John Commingers Ainsworth was an American businessman.
Ainsworth was born on June 6th, 1822 in Springboro, Ohio. He was just thirteen his parents both passed away. He moved to Iowa where he lived and worked with his uncle. By the time he turned twenty he had started a business with his uncle, started a second business with a different partner and sold it for a profit within a year, gotten married and lost his wife after only fifteen months.
In 1844, Ainsworth went back into business with his uncle. This time the two men started a package delivery service the upper Mississippi River.
In 1849, the California Gold Rush started. Ainsworth sold his part of the business and headed west. When he arrived in California he was less than happy with the life he found. He moved to Oregon and became a steamboat pilot on Willamette River
In 1860, Ainsworth along with several investors started the Oregon Steam Navigation Company (OSNC). Before long the company had bought up all the competitors on the Columbia river and had bought railroads as well. By 1879 when the company was sold, the OSNC held a monopoly on shipping on steamers, trains, and freight lines. The company was sold at the time for $5 million dollars.
After selling the OSNC, Ainsworth went into banking. He owned the Ainsworth National Bank in Portland. He also started the Central Bank of Oakland.
Ainsworth passed away on December 30th, 1893.
Ainsworth was the third Grand Master of the Grand Lodge of Oregon. He also founded the Orient of Oregon and the Valley of Portland, Ancient Accepted Scottish Rite, Southern Masonic Jurisdiction. He also served as the first Sovereign Grand Inspector General of the Orient of Oregon.