Stephen Davison Bechtel, Sr.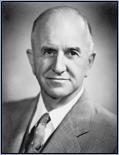 Born September 24, 1900 - Died March 14, 1989
Stephen Davison Bechtel, Sr. was an American businessman.
Bechtel was born on September 24th, 1900 in Aurora, Indiana. He spent most of youth being raised in construction camps as his father traveled around for the family business. As a teenager, he joined construction gangs and worked for his father's company. He attended Purdue University where he graduated with a civil engineering degree in 1922.
In 1925 he joined his father's company, W.A. Bechtel Company. They were largely involved with building railways, highways and other infrastructure. Their biggest public works project was the Hoover Dam and Stephen was actively involved in the project.
In 1933, Bechtel's father passed away suddenly. At the time, the company was actively participating in the construction of the Hoover Dam. Bechtel was on the executive committee which consisted of the 6 companies involved in the construction. Under his leadership the company expanded. They took on new areas including oil and gas, nuclear power, and defense. They also took on complex projects like the San Francisco-Oakland Bay Bridge and the Channel Tunnel from England to France.
Bechtel ran the family company for 30 years. Many around him complimented him on his leadership style which many called relaxed. He moved the company into engineering and eventually took the company international.
During World War II, he served on the President's War Production Board. In the 1950's he was appointed by President Eisenhower to serve on the President's Advisory Committee on Government Organization. In the private sector he served on The Ford Foundation board. The foundation's goal is to support philanthropic causes , education, social justice, human rights, economic development, and the arts.
In 1960, Bechtel was awarded an honorary Doctor of Laws degree from the University of California at Berkley. In 1980 the school completed the Bechtel Engineering Center which was named for his family. Several members of the Betchel family have attended the school and the company worked on several construction and infrastructure projects on the campus.
Bechtel passed away on March 14th, 1989.
Bechtel was a member of Oakland Lodge No. 188, Oakland, California.